As Labor Day Approaches, People With Disabilities Are Getting Jobs
Press Release
•
updated: Aug 29, 2018
343,483 people with disabilities joined workforce last year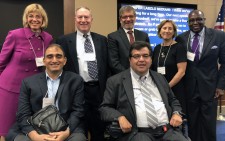 WASHINGTON, August 29, 2018 (Newswire.com) - As Labor Day weekend approaches, the disability community has a lot to celebrate. 343,483 more people with disabilities joined the American workforce in 2016. This is a four-fold improvement over the previous year when only 87,201 people with disabilities found jobs.
Earlier this summer, business experts with direct experience in hiring people with disabilities gathered together to talk about the dramatic improvement in new jobs for people with disabilities, what's driving it and how we continue improving. This discussion took place during a summit, "From Washington to Hollywood and Beyond: The Future of Americans with Disabilities," which was sponsored by RespectAbility, a national nonprofit organization fighting stigmas and advancing opportunities for people with disabilities. The event consisted of panels on education, employment, media representation, and intersectionality.
343,483 more people with disabilities joined the American workforce in 2016. This is a four-fold improvement over the previous year when only 87,201 people with disabilities found jobs.

Donn Weinberg, Philanthropy Roundtable Chair
Moderated by Donn Weinberg, who chairs the Philanthropy Roundtable, the panelists came from diverse areas of the business world, including Jim Sinocchi of JP Morgan Chase, Ron Painter from the National Association of Workforce Boards, and Vincenzo Piscopo of Coca-Cola.
Piscopo was asked about why he feels that hiring people with disabilities is not just a charitable thing to do, but also the smart thing to do for business. He responded by saying that since becoming immersed in the disability community eight years ago, he has "met amazing people with disabilities with skills that are just incredible." Piscopo also spoke about how people with disabilities are used to persevering and overcoming challenges, two traits of great employees. Piscopo believes that "when companies hire people with disabilities, they are actually adding value to their company."
One key concept that resounded through the panel was the concept of normalizing disability. Jim Sinocchi of JP Morgan Chase talked about some of his strategies in navigating disability in the workplace. For example, he said that when employees ask him what to say when they meet people with disabilities, he answers, "How about hello? How about, would you like a cup of coffee?"
Sinocchi feels that some employees are afraid of making mistakes, and the best way to rectify that is for people with disabilities to "own [their] disability." Sinocchi said that people with disabilities should try to help their colleagues understand what they need, what they want and how they can collaborate.
Piscopo talked about the steps that Coca-Cola is taking to expand inclusion. When Piscopo sees people with disabilities "that are extremely brilliant" who are not being used to their potential, he feels they have "value that has been thrown to the garbage."
"Why don't we take advantage of that?" he said. He also talked about how he is working with senior management to show them the skills that people with disabilities bring to the table.
Ron Painter talked about an increased focus on credentials and competence in the hiring process, which means there is a "tremendous opportunity for individuals [with disabilities] to first demonstrate competency and then the rest of the individual." Painter also believes that automation has "tremendous potential" to level the playing field.
On the subject of equity in hiring practices, Sinocchi was clear about his position on preferential hiring. "The disabled community sometimes goes to our recruiters and says, 'okay, what jobs do you have for disabled people?' And we say, 'we don't have any.' We have jobs for qualified people."
Sinocchi argued that some people with disabilities are more qualified for certain positions than people without disabilities. For example, some people on the autism spectrum are better at focusing on coding, so Sinocchi said that "when we have people on the [autism] spectrum that are available to work in our technology group, they are snapped up immediately."
One audience member wanted to know about the changing workplace culture, and another asked about tips for people with disabilities seeking employment. Painter recommended American Job Centers, which assist many Americans with and without disabilities in finding employment. Sinocchi noted how he works with his company to make sure they hire services from businesses run by people with disabilities.
"My firm is ripe for change," he said.
The panelists also were asked about the possibilities for entrepreneurship by and for people with disabilities. Painter was enthusiastic about the question, saying there are "a lot of workforce boards across the U.S. that are investing in entrepreneurship training."
Weinberg brought up John's Crazy Socks, a business run by a man with Down syndrome and his father that is a major success.
The panel closed with an optimistic statement from RespectAbility President Jennifer Laszlo Mizrahi, who affirmed RespectAbility's commitment to working with companies to improve employment opportunities for all.
RespectAbility's Eric Ascher and Lily Cantor contributed to this article.
Media Contact:
Lauren Appelbaum
Phone: 202-517-6272
Email: laurena@respectability.org
Source: RespectAbility
Related Media
Additional Links