As Interest Rates Rise, Homeowners Have One More Consideration as They Sell: New Book Shows Them How to Effectively Market Their Home and Price It Right
'Holy CRAP! I'm Selling My Home. NOW WHAT?: The Home Selling Guide Book' by Rick Machle
Press Release
-
updated: Jan 8, 2019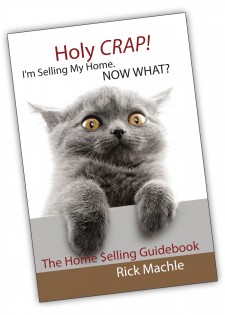 DENVER, January 8, 2019 (Newswire.com) - For every one percent rise in mortgage interest rates, home buyers' buying power declines by about 10 percent. With over a decade of declining or flat interest rates, homeowners will now have to add one more item to their list of concerns as they sell. Colorado-based Growing Ideas, L.L.C. publishes new book by Rick Machle, "Holy CRAP! I'm Selling My Home. NOW WHAT?: The Home Selling Guide Book," demystifies the home-selling process. Most homeowners don't know how to correctly select an agent, price their home, stage it and market it to get the most money for it, and in the shortest amount of time. This book will show homeowners how to accomplish that goal with less stress.
Over the past 15 years, Rick Machle has worked with some of the best real estate agents who have shared their insights as to what home sellers can do to prepare their homes for sale. Machle understands what distinguishes a good real estate agent from agents who could do better for their clients. The final sale price can be thousands higher with the right agent. This book helps homeowners interview agents to find the best agent for them.
A well-staged home can also bring in thousands of additional dollars. Even in a seller's market, staging can attract more buyers to achieve a higher sale price. This book includes staging checklists for different spaces and the companion website also features hundreds of photographic examples.
The book is available in paperback ($8.99), Kindle e-book ($4.99) and audiobook ($8.99 (MSRP) - available by Feb. 1, 2019). The Kindle version is included at no charge when purchased with the paperback. The Kindle edition has direct links to the companion website. People can also access the companion website via direct links.
Said Machle, "Homeowners go into this process with little to no knowledge about what's involved. This is the most valuable asset most people have and they don't know what it takes to sell it. They roll the dice and hope that it pays off. Homeowners can do better and this book will give them knowledge to help them do it better."
For more information and to read an excerpt, visit www.HomeSellingGuideBook.com.
Press Inquiries Contact:          
Rick Machle
303.740.5555
rickm@rockinmedia.com
Source: Growing Ideas LLC
---
Categories: Real Estate, Real Estate
Tags: finding a real estate agent, home selling guide book, pricing your home, staging, staging your home for sale
---