As COVID-19 Batters the Kids' Camp Industry, Online Adventure Camps Charts New Course for STEM Summer Fun
Surviving (and Thriving) While Sheltering in Place
Press Release
-
updated: May 26, 2020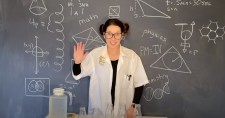 ANNAPOLIS, Md., May 26, 2020 (Newswire.com) - For parents and students coping with stay-at-home orders, the launch of Online Adventure Camps comes not a moment too soon.
As the COVID-19 pandemic sends the summer camp industry reeling and continues to upend families' plans, some camp providers have taken a new tack. Online Adventure Camps aims to bring engaging, interactive summer fun to every home. Leveraging over 22 years in the summer camp industry, founder Rob Elwood brings his experience with in-person tech camps to creating engaging virtual content. He explains his secret: "Kids have had months of online learning. We believe school is school, but camp is camp. We combine hands-on, project-based STEM activities with the magic of summer camp, creating memories that last a lifetime."
Along with courses in visual and performing arts, Online Adventure Camps offers experiential, collaborative STEM camps for preschool to high school. Camps for 3 ½–6-year-olds foster curiosity, hooking the youngest learners on the wonders of science. If it oozes, bubbles or gurgles, elementary campers will explore it. (Snot in a Box, anyone?) In Seriously…Do Try This at Home, campers are invited to visualize sound and watch molecules move, while young engineers build Rube Goldberg machines, skyscrapers and more. Elwood credits his expert instructors for the camps' appeal: "Our experienced teachers are hand-picked for their ability to channel positive energy and fun in a safe, engaging and interactive environment."
In addition to science and engineering, Online Adventure Camps offers digital arts and tech programs for ages 7-15 – from beginning coding in Scratch to advanced 3D game development with Unity and Unreal Engine. Minecraft and Roblox lovers may create new worlds and battle to their hearts' content. Middle and high school students can even try their hand at Sports Broadcasting and Analytics, learning to analyze their favorite sports teams and create their own highlight reel. 
From its base on the Eastern seaboard, Online Adventure Camps has a mission to offer kids across the continent one of the most creative, enjoyable learning experiences of their lives. Acknowledging the unique challenges of this pandemic, Elwood explains, "Kids, now more than ever, need to see and meet new friends and connect with counselors. There's something magical about summer camp. We aim to bring that home to you." 
For more information, visit www.onlineadventurecamps.com or call (800) 336-2098.
###
About Online Adventure Camps
For over 22 years, Online Adventure Camps' founders have served nearly 1,000,000 campers, ages 3-18, working with over 500 independent schools, colleges, and organizations. They now offer a variety of summer camps in a virtual setting, including traditional day camps for Pre-K to 1st grade, along with specialty, gaming and coding camps for elementary & up. Featuring professional adult teachers who are experts in their fields, Online Adventure Camps provide positive energy, collaborative community, and hands-on learning in a safe, creative and interactive environment.
Source: Online Adventure Camps
Share:
---
Categories: Education
Tags: coding, COVID-19, digital media, gaming, online learning, online summer camp, Pre-K, science, STEM, summer camp, tech camp, virtual camp
---
Related Files
Additional Links