Artistic Paver Mfg. Features Driveway Pavers at the Mercedes-Benz of Scottsdale, AZ
Leading Interlocking Concrete Paver Manufacturer Prove Their Pavers Look as New as When They Were Installed Over Two and a Half Years Ago
Press Release
-
Aug 16, 2016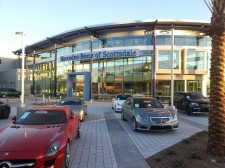 CASA GRANDE, AZ, August 16, 2016 (Newswire.com) - Artistic Paver Mfg.®, a leading concrete paver manufacturer, shares a success story from a satisfied customer and proves the company's pavers will maintain their look and durability over time.
Two years ago, the owners of the Mercedes-Benz dealership in Scottsdale, AZ sought to remodel a three-story building to house their new luxury car business. The sleek, modern, $25M three-story digs were unveiled to the public in January of 2014 featuring climate-controlled showrooms, floor to ceiling glass panes, many, many expensive import cars, and lots of Roadlock® Driveway Pavers manufactured by Artistic Paver Mfg.®
"More than two years later, these driveway pavers have lived up to their reputation by retaining their beauty, durability, and ease of maintenance," said Daniel Essig, President of Artistic Paver Mfg.®. "We weren't surprised when one of our area sales representatives sent us some photos from the location last month, and we saw the pavers still look amazing."
Designed to meet the requirements for driveways, Roadlock® Driveway Pavers also possess the advantages and versatility of sand-set, interlocking pavers. They are uniform in shape, dense, and non-porous, meaning they can be installed in any climate. The pavers are resistant to salt erosion, secondary efflorescence, staining, algae and mildew growth, and the withering desert sun.
Artistic Paver Mfg.® designs and manufactures interlocking pavers in a large variety of materials and colors. For large orders, typically over 10,000 sq. ft., they can custom match the pavers with your color choice or add specialty materials, like recycled colored glass and conch shells, to make your project stand out.
Artistic Pavers are the choice for many nationally-known companies, including Wynn Hotels, Ritz-Carlton Hotels, Hyatt Hotels and Resorts, the Houston Convention Center in Texas, William Lyon Homes, and more. If they are good enough for these top-notch brands, they are good enough for your home.
Since 2000, Artistic Paver Mfg.® has been manufacturing interlocking concrete pavers. Our company was born because we believed the market was lacking an aesthetically beautiful yet functional product that was special, different, easy to install and available for fast delivery.
The company specializes in unusual sand-set pavers that give decks and driveways a distinguished look. Our two factories on the East Coast and West Coast are strategically located providing quick delivery to the U.S., Canada, Mexico, and the Caribbean.
Surfacing by Artistic Paver Mfg. can be used commercially as well. Our surfaces have been installed in hundreds of hotels, resorts, municipalities, sports arenas, stadiums and widely specified by Architects nationwide.
For more information, please visit http://www.artisticpavers.com/ or call Main Office-East Coast 305-653- 7283 or West Coast Factory (520) 426-3479
###
Source: Artistic Paver Mfg.
Share:
---
Categories: Business to Consumer, Business to Business, Construction, Manufacturing, Production and Manufacturing, Exteriors
Tags: Artistic Paver, Artistic Paver Mfg, Artistic Pavers, Concrete Paver Manufacturer, Concrete Paver Manufacturers, Concrete Paver Manufacturing, Driveway Pavers, Interlocking Concrete Paver Manufacturer, Interlocking Concrete Pavers, Paver Manufacturer, Paver Manufacturing, West Coast Concrete Paver Manufacturer
---