Artist and IG Model Announce a Valentine's Day NFT Card Drop Called 'I HEART U'
Press Release
•
Jan 26, 2022
Artist Leah Schrager and IG model Ona Artist are collabing on a Valentine's Day NFT Card Drop called I HEART U, which drops on Feb. 14, 2022, at GFE-NFT.io.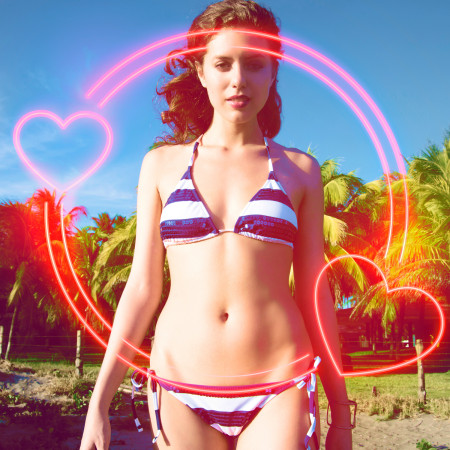 BROOKLYN, N.Y., January 26, 2022 (Newswire.com) - It looks like NFTs and love really do mix. Artist Leah Schrager has announced she'll be dropping a collection of "Valentine's Day NFT Cards" on February 14 called I HEART U. The NFTs are composed of photos from her highly popular Finsta, @OnaArtist (4.8M), on which Schrager has painted digitally.
I HEART U will drop on GFE-NFT.io, the website where Schrager posts the NFTs she constructs out of OnaArtist's photos. Each unique, single piece comes with a "Personal Love Message" from OnaArtist, as well as various perks, including a private Discord channel and exclusive photo bundles.
As Schrager says, "GFE-NFT is a new approach in the NFT world for several reasons. There are very few real bodies in NFTs, but I'm changing that up by using OnaArtist's classic IG photos as templates for the works. Also, while you will find the occasional female body in NFTs, they're mostly appropriated by male artists, but I am both model and artist in every piece I make. Finally, most NFT collectors are men buying from male artists, so this project brings female representation and monetization into the scene."
GFE-NFT's motto, "You're gonna need a girlfriend in the Metaverse," reflects Schrager's response to most NFT collectors being men, but also prompts the personalized nature of her Valentine's Day NFT Cards. "Each of the 100 NFTs in I HEART U is a Valentine's Day Card from OnaArtist to the collector, full of love, sweetness and rewards."
While Schrager has shown her visual art at fairs and galleries around the world, the move to NFTs is a natural one for her. As Hyperallergic recently said, "Leah Schrager started making something akin to NFTs before there were NFTs. For over 10 years, the artist has been making one-of-a-kind digital art that explores themes of celebrity and sexuality ... in a kind of ongoing online performance piece." The artist has shown her work around the world and has been compared to such seminal figures as Marina Abramovic, Marcel Duchamp, and Cindy Sherman.
OnaArtist's Instagram has 4.8 million followers and serves as the hub for her modeling and music. Of her album, Onamania, Playboy said, "There are few singers and artists who are so unique, so individual, so highly talented that they're known by one name. Beyonce. Picasso. Madonna. Perhaps it's time you add another name to that list: Ona."
Source: Leah Schrager, Artist