Art, Fashion, Sustainability: An Exhibition Inspiring Us to Think & Live Sustainably
Parsons, F.I.T., Columbia advised Sustainable Art/Fashion Exhibition "Up Down" is open until Oct 30 at 192 Elizabeth Street in Manhattan.
Press Release
-
updated: Oct 22, 2018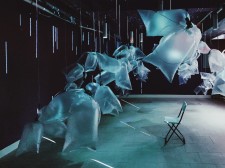 NEW YORK, October 22, 2018 (Newswire.com) - "​Up Down: Re-imagine Recreate," sustainable art & fashion pop-up exhibition has arrived in October at 192 Elizabeth Street in Manhattan, curated by a creative start-up MindSight Lab, and advised by Parsons, F.I.T. and Columbia professors. It revolves around multimedia art, sustainable fashion and stimulates a conversation amongst audiences about human, fashion, and nature.
The immersive show invited ten artists from around the world to explore how creativity - from cutting-edge research to imaginative zero waste design - help us live sustainably.
Cutting Edge Research on New Materials: - Material sourcing in fashion presents hazards to both human and environmental health, from the pollution created by mainstream cotton farming to the toxins treating "fast fashion" fabrics. Academic and industrial efforts come together to invent new materials, like fungal mycelium and microbial cellulose, and to mimic the properties of durable designs found in the natural world -- the stain-resistance of the lotus leaf, for instance.
Creative Zero Waste: - Sustainably-produced fabrics can still result in waste if they are not efficiently used. Practitioners of "zero-waste design" create careful patterns that produce no waste fabric, or "up-cycle" waste fabrics to craft even more beautiful garments.
Human, Fashion, Nature: - While the exhibition features fascinating designs, the most captivating are the immersive experiences created by art installations. Artists utilize light, and music to question some current approaches in fashion manufacturing - like the use of tags and labels - and trendy thoughts on sustainability - whether plastic, PVCs and stainless steels are the culprits of pollution.
"Up Down" convinces people to alter their consumerist habits by inviting talented fashion design students from Parsons to make on-site alteration suggestion. Various eco-brands like "Mikan", "Little Ondine" are also invited to host events during the show. "The artists and innovators of this project inspired us to shop, and live more cautiously," said Sunny Guo and Leah Li, Organizers of "Up Down".
For more, visit Updown.NYC.
About MindSight Lab
MindSight Lab is a creative agency addressing marketing needs. We aim to build an efficient channel for connecting consumer, brands, professionals, and services. For more information, visit MindSightLab.com.
Media Contact: 
Sunny Guo 
Phone: 646.359.4170 
Email: info@updown.nyc
Source: MindSight Lab
---
Categories: Arts and Entertainment, Environmentalism, Fashion and Apparel Industry
Tags: art, developing, fashion, immersive, interactive, sustainability, technology
---