ArrowStream Unveils New Website Showcasing Enhanced Supply Chain Solutions and an Expanded Network
Press Release
•
Aug 17, 2023
Leading Supply Chain Software Platform Launches New Website Inviting the Foodservice Industry to "Rethink Your Supply Chain"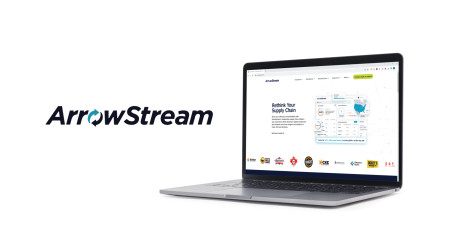 CHICAGO, August 17, 2023 (Newswire.com) - ArrowStream, Inc. ("ArrowStream"), a trailblazing collaborative foodservice software solution provider, is excited to announce the launch of its new website, marking a pivotal moment in the company's ongoing journey of constant growth and innovation. The redesigned website reflects ArrowStream's dynamic growth and expanded capabilities. It displays ArrowStream's position as a leading force in optimizing supply chain efficiency and profitability for foodservice operators, distributors, and manufacturers.
As a company that has always been at the forefront of driving positive transformation in the foodservice industry, ArrowStream has continuously evolved to meet the ever-changing demands of the market. The new website is a testament to the tremendous progress the company has made over the years, showcasing its commitment to delivering unparalleled solutions to its valued clients.
"Over the years, ArrowStream has transformed from a foodservice operator software solution, into an ecosystem for the entire foodservice network, and our new website beautifully captures just that," said Bill Michalski, Chief Product Officer at ArrowStream. "In the last year alone, we've joined the Buyer's Edge Platform community, launched a brand-new product for the foodservice manufacturer market, and dedicated a project for our operator customers, aimed at reducing the effort needed to manage supply chains."
The new website maintains ArrowStream's distinct branding, ensuring a seamless transition for existing customers while welcoming newcomers to the expanded and supportive network. The user-friendly interface is accessible across desktop and mobile devices.
"As we continue to evolve, we wanted our website to reflect the transformative journey we have undertaken over the years," said Joe Ferrell, Sr. Director of Marketing at ArrowStream. "Just as we're here to help the foodservice industry 'rethink its supply chain', we too are always evolving as a company to support the needs of the industry. Our new website symbolizes our dedication to staying at the forefront of technology, empowering our customers, and fostering a collaborative network within the foodservice industry."
With a legacy of constant innovation and a focus on customer success, ArrowStream is ready to embark on the next phase of its journey. The new website serves as a platform to exhibit ArrowStream's capabilities, highlight its achievements, and demonstrate its commitment to delivering excellence to its customers.
Discover the enhanced features of ArrowStream's collaborative foodservice cloud platform and experience the difference two decades of evolution can make. Explore the new website at www.arrowstream.com.
About ArrowStream
ArrowStream, a Buyers Edge company, is the leading foodservice cloud platform for supply chain intelligence, with over 1,300 distribution locations, 10,500 manufacturers, and 275 leading brands across 105,000 restaurant locations tightly integrated into a single global network of applications and industry data. ArrowStream provides unparalleled levels of transparency, control, and actionable insight to mitigate risks, streamline operations, protect the brand, and optimize profitability. Find out more at www.arrowstream.com.
Source: ArrowStream, Inc.