ArrowStream Launches Mobile App to Provide On-the-Go Critical Pricing Insights
Press Release
•
Sep 12, 2023
ArrowStream Mobile Equips Restaurant Chain Executives With Early Awareness of Price Changes That Will Materially Impact Bottom Lines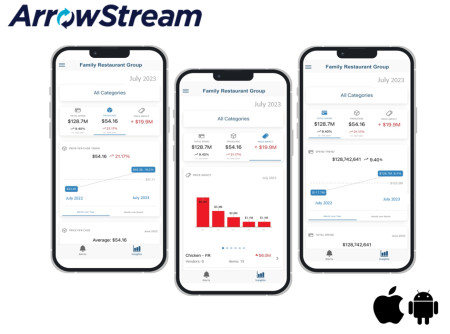 CHICAGO, September 12, 2023 (Newswire.com) - ArrowStream, Inc. ("ArrowStream"), the leading foodservice cloud platform for supply chain intelligence, announced the launch of its mobile foodservice supply chain visibility and pricing intelligence app, ArrowStream Mobile (iOS/Android). ArrowStream Mobile provides restaurant chain executives instant notice of significant changes in both food- and non-food-related costs. Now, customers can easily track pricing volatility from their mobile devices at any time.
"Our customers need constant visibility no matter where they are, along with proactive notifications so they know when to take action," said Bill Michalski, Chief Technology Officer at ArrowStream. "With large-scale swings in raw material pricing, freight rates, and supply availability, case costs can fluctuate significantly from month to month. Streamlining this critical data into an accessible mobile app allows our customers to accelerate strategic menu, price, and supply decisions that can dramatically reduce the impact on their bottom lines."
In addition to providing near real-time pricing data, ArrowStream Mobile provides users with month-over-month and year-over-year cost-per-case trends. Users can see a breakdown of price-change impact by both product category and individual product. Users can also set alerts based on customizable thresholds so they can be notified immediately of any substantial price changes.
"With today's worldwide supply chain challenges, restaurant chain leaders need immediate access to the threats facing their business and the ability to respond to those threats instantly from wherever they are," said Jeff Dorr, President at ArrowStream. "By channeling our network's most critical insights through a mobile app, we are helping foodservice leaders tackle supply chain volatility in the moment."
ArrowStream Mobile's first phase focuses on providing ArrowStream customers with instant pricing visibility, but the company plans to release several additional features by the end of 2023.
"We are always looking for ways to keep our customers at the forefront of their businesses," said Michalski. "As we continue to develop ArrowStream Mobile, users can expect additional insights such as out-of-stock threats, as well as quality and service trend alerts."
ArrowStream Mobile is now available on both iOS and Android devices. To learn more about how restaurant chain operators, foodservice manufacturers and distributors are improving their supply chain operations and partner collaboration, please request a consultation with one of our supply chain experts today.
About ArrowStream
ArrowStream, a Buyers Edge company, is the leading foodservice cloud platform for supply chain intelligence, with over 1,300 distribution locations, 10,000 manufacturers, and 275 leading brands across 105,000 restaurant locations tightly integrated into a single global network of applications and industry data. ArrowStream provides unparalleled levels of transparency, control, and actionable insight to mitigate risks, streamline operations, protect the brand, and optimize profitability. Find out more at www.arrowstream.com.
Source: ArrowStream, Inc.