Army Veteran Launches Company to Give Service Dogs to Disabled Veterans
Steve Scott, Army veteran and owner of the Texas-based Scott's Police K9 LLC, recently launched a new venture that will provide service dogs to PTSD-disabled combat veterans of the U.S. military free of charge.
Press Release
-
updated: Jan 4, 2018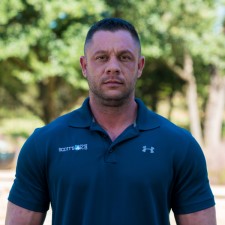 FLOWER MOUND, Texas, January 4, 2018 (Newswire.com) - We know that dogs are "man's best friend" and this is no truer than in the case of a disabled veteran. Service dogs provide companionship, assistance and loyalty, and they help bridge the gap that is often experienced by service members suffering from combat-related PTSD. A disabled veteran himself, Steve Scott of Flower Mound, Texas, understands firsthand the struggles that disabled veterans can have in the everyday civilian world. When Steve ended his Army career and began service as a Police K9 handler, he discovered the unbreakable bond between man and dog.
Steve has since devoted his life to training and selling elite family protection dogs through his company Scott's Police K9. Steve has delivered dogs to families, police agencies, military units and government agencies all across the country and, throughout his travels, he is often asked how others can help give back to our military. In December of 2017, Steve decided to create a way to do just that. "I see the loyalty, protection and companionship that these dogs offer and this is something that many of our veterans need," said Scott. "This will be a great way to help those that have laid it all on the line for our country."
Steve Scott founded "Got Your Six K9," a nonprofit organization, whose mission is to provide PTSD service dogs to disabled veterans. The name Got Your Six is a commonly used military phrase meaning to protect your fellow soldier - to look out for them. Got Your Six is a nonprofit registered with the State of Texas and pending 501(c)(3) designation from the IRS. Steve hopes that Got Your Six K9 will hit the ground running in 2018 and that they can start delivering fully trained service dogs to veterans a little later in the year. Their website is live and they are accepting Veteran nominations and monetary donations.
Source: Scott's Police K9 LLC
Share:
---
Categories: Non Profit, Charitable Contributions, Military and Defense
Tags: Protection Dogs, PTSD, Service Dog, US Military, Veteran Nonprofit
---