Arkansas Bank Congratulates CFO on Forty Under 40 Achievement
Chambers Bank Congratulates Chief Financial Officer on Forty Under 40 Honor
Press Release
-
updated: Aug 28, 2017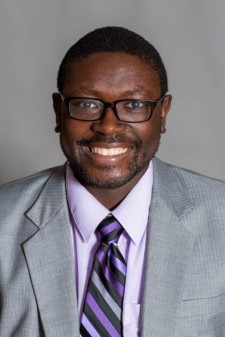 DANVILLE, Ark., August 28, 2017 (Newswire.com) - Chambers Bank, with locations throughout Arkansas, enthusiastically congratulates chief financial officer (CFO), Landi Mkhize, on recently being named to the Northwest Arkansas Business Journal's (NABJ) 21st edition of Forty Under 40.
Beginning in 1997, the journal has annually honored 40 outstanding professionals under the age of 40 who live and work in the six-county coverage area of Benton, Washington, Carroll, Madison, Sebastian and Crawford counties, according to the journal. The 2017 class was chosen from more than 100 nominations, representing a variety of business industries in the for-profit and nonprofit sectors.
Mkhize was born and raised in Johannesburg, South Africa, and moved to Arkansas in 2001 for college. He later accepted a position with the Arkansas State Bank Department and traveled the state, where he witnessed economic conditions worsen.
"It was trial by fire in a stressful period, and it was tough watching the people we examined," Mkhize said, according to the NWABJ article. In 2013, as the economy began to improve, Mkhize was hired by Chambers Bank as a controller and was subsequently promoted to CFO.
Mkhize teaches financial literacy and is involved with Junior Achievement of Northwest Arkansas. Living in South Africa during the apartheid, Mkhize attributes Nelson Mandela on affecting his life and perceptions.
"Mandela's reconciliation and the way he treated everyone had a big impact on my life," he said, according to the NWABJ article.
Chambers Bank was established in 1930 and has since expanded to 18 locations throughout the state. Chambers Bank offers comprehensive financial services, including individual retirement accounts, certificates of deposit, checking/saving accounts, merchant services, loans, safe deposit boxes, internet banking and more.
As Arkansas' foremost banking institution, Chambers Bank is dedicated to providing Arkansas communities a comfortable place for personal, hands-on banking support.
Chambers Bank would like to congratulate Landi Mkhize for this milestone recognition.
###
Chambers Bank is an Arkansas-based bank, established in 1930, dedicated to providing Arkansas residents a safe, friendly and comprehensive option for all banking needs. Chambers Bank has continued to strive for improvement and has grown into 18 locations throughout Arkansas. The institution is dedicated to providing communities a personal and secure banking experience and offers innovative and competitive solutions for all banking needs. Chambers Bank has been a part of Arkansas communities for more than 87 years and plans to continue the tradition for 87 more. Chambers Bank is the Natural Choice for the Natural State.
To learn more about the services offered by Chambers Bank, please visit http://www.chambers-bank.com.
Source: Chambers Bank
Share:
---
Categories: Local News, Banking, Finance, Insurance, Business
Tags: Arkansas, Award, Banking, CFO, Chambers, Chambers Bank, Forty Under 40, Landi Mkhize, NWABJ
---