Arizona Small Business Defaults Deteriorate in December - PayNet
Press Release
•
updated: Feb 15, 2018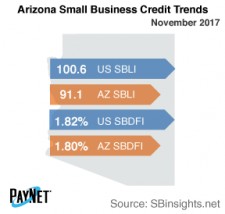 Phoenix, AZ, February 15, 2018 (Newswire.com) - PayNet, the leading provider of small business credit assessments on private companies, reports that in December 2017 the percentage of Arizona's small businesses defaulting on existing loans has increased, despite default rates in 11 of the 18 major industries falling in the state.
PayNet's Small Business Default Index (SBDFI) for Arizona registered at 2.04% after a 23 basis point increase from November. Arizona's SBDFI was 21 basis points above the national SBDFI level of 1.83%. Year-over-year, Arizona's SBDFI 18 basis points, while the national SBDFI has held steady.
Transportation and Warehousing (3.64%); Health Care and Social Assistance (3.13%); and Admin & Support and Waste Management & Remediation Services (3.08%) recorded the highest default rates of all industries in Arizona. Nationally, Transportation and Warehousing had a default rate of 4.00%, with a difference of -0.20% compared to the prior year, while Arizona had a variance of -1.37%.
At 91.9, the PayNet Small Business Lending Index (SBLI) for Arizona rose 0.5% from the previous month's state level, but was 8.4% lower than this month's national SBLI level (100.3). The state Index is basically unchanged from a year ago.
"Time will tell how these conditions will affect Arizona's economy going forward," asserts William Phelan, president of PayNet.
Source: PayNet
Related Media