Ariana Nila Just Released Her New Personalized Jewelry Collection
Press Release
-
updated: Jul 6, 2020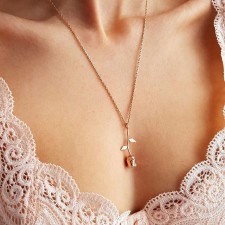 NEW YORK, July 6, 2020 (Newswire.com) - Ariana Nila has just launched her new collection of personalized jewelry, giving the industry the most uniquely customized compilation of gems, with something exclusive to offer to every group throughout the entire spectrum of demographics regardless of age, gender, interest, or occasion.
The founders, Ariana and Arian Nila, said: "The sole mission of our new collection is to give people the opportunity to creatively materialize their personal stories. Be it an engagement party, a celebration of new life, or sealing of a lifelong friendship, we want our products to be the eternal commemoration of those moments."
It is clear that Ariana Nila's new collection comes with the mission to engage her clients by making gems that will embody and perpetuate a memory or cause for generations to come, just like she preserved her family's tradition of the artisanal and filigree work of jewelry.
But that was just the beginning. Today, Ariana​ Nila and her brother Arian are giving her father's local and traditional craft a brilliant touch of contemporary innovation, operating with the most modern technology to date present in the industry.
In other words, the Nilas have fundamentally transformed their small family business from a small town in Kosovo into the best stand-alone enterprise of its kind in the entire region - and so have proclaimed all the prominent media outlets in the country.
After five years of running her business, slowly but surely, Nila is gaining international recognition by media outlets, and she wants to go even further with the firm conviction that she will one day stand as one of the leaders of the industry worldwide.
As claimed by Rilind Elezaj, founder of SEOforX and Probleme.me: "Ariana Nila is one of the few domestic enterprises with the potential to break into the international markets and is worth working for."
Seeing the progress, creativity, innovation, and professionalism, it is not too optimistic to say that with Ariana Nila jewelry, she will one day be one of the industry's leading ladies.
Source: Ariana Nila Jewelry
Share:
---
Categories: Jewelry
Tags: Ariana Nila, personalized jewelry, personalized necklaces, personalized rings
---