Are You Considering a Stair Lift Installation?
Press Release
•
Jun 24, 2016
There are companies that offer stair lift installation as well as rentals for stair lifts. There is one company that offers stair lift installation from various brands.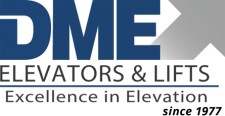 Indiana, June 24, 2016 (Newswire.com) - ​When you live in a home that has multiple floors, and you or a member of your household is experiencing mobility challenges, you may start to consider a stair lift installation. Our company, DME Elevators and Lifts, is a long-standing provider of home mobility solutions. We sell, service, and install stair lifts into Illinois, Indiana, and Wisconsin homes, and we have been in business since 1977. This longevity says a great deal about the level of service that we have been able to provide for our stairlift customers over the years that we have been in business.
Custom Crafted Stair Lift Solutions
If you are thinking about a stair lift installation, you may stop and take pause when you take a long look at the configuration of your staircase. The idea is that it would be impossible to install a stairlift that can accommodate the twists and turns of your stairway. This perspective can also be applied to an irregularly shaped or oddly placed landing. We source our quality stair lifts from the highly respected Stannah company. They have been on the cutting edge of stairlift research and development for decades, and they understand the fact that there is no one-size-fits-all stairlift. Solutions exist to accommodate different angles of curvature, so you don't have to worry about the configuration of your staircase.
Stairlift Rentals
For many people, a stair lift purchase will be the best choice, but there is another option that is available to you. Under some circumstances, a stair lift rental will be preferable, and we offer quality stair lift rentals to customers in our service areas.
Comprehensive Home Mobility Solutions
A stairlift will be ideal for some homeowners, but there are other home mobility solutions that can be explored. Home elevators provide a host of benefits, and you don't have to be mobility challenged to enjoy them. Plus, the installation of a home elevator is an investment, because it can improve the value of your property. Wheelchair lifts are another option, and we can help if you are looking for a wheelchair lift or a home elevator.
You can call DME Elevators and Lifts toll-free at 800-876-0741, and you can also send us a message through our contact page if you would like to learn more about home mobility solutions.
About the Company: DME Elevators and Lifts is a full-service home mobility company that specializes in top quality stair lifts, wheelchair lifts, home elevators, and more.
Source: DME Elevators and Lifts