Are Cycling Masks With Carbon Filter Produced by Neoprener Effective Against the Coronavirus?
Press Release
•
updated: Jul 3, 2020
Mesh Cloth Cycling masks with carbon filters are comfortable than other masks on the market and allow users to remain active without compromising their health.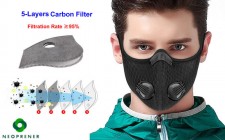 NEW YORK, July 3, 2020 (Newswire.com) - ​​​​​​​Since the onset of the novel coronavirus, experts have encouraged physical activity to improve mental and physical health. Cycling became more popular as people looked for ways to leave their homes, comply with social distancing, and exercise.
As more people took to the streets and the public stance on wearing masks changed, cycling became more difficult. Unfortunately, common cloth masks affected a cyclist's ability to breathe, and other masks were too cumbersome. Thankfully, a cycling mask could be the answer to keep you safe and on your bicycle.
Popular Cycling Masks for COVID Protection on the Market
Masks are effective tools for stopping the spread of the virus while riding a bicycle. Cotton masks, neoprene masks, and mesh cloth masks are the most popular cycling masks, but how to choose a suitable one? Let's look a little deeper into your options.
Cotton Masks
Cotton masks don't form the best seal around your mouth and nose. Further, they don't filter as much from the air you breathe, so they don't protect you as much as they protect others from your germs.
Neoprene Face Mask
Neoprene Face masks with valves are professional masks for enthusiastic cyclists. It is a better choice in winter or autumn. Comparing the cycling masks made of mesh polyester fabric, the neoprene material can keep you warm during cold weather when biking.
Neoprene face masks are also used in heavy pollution activities, like woodworking and gardening, because the neoprene material is durable.
Mesh Cloth Bike Masks
Since mesh cloth cycling masks are made of lightweight polyester, they are comfortable and conform to the contours of your face. The shell is often washable. They also look cooler and sportier than the other types of masks.
Mesh cloth cycling masks for COVID-19 have adjustable features, like nose clips and ear-loops, so you can find the perfect fit. They work better for people wearing glasses because the breathing valves prevent fogging of your lenses.
How to Choose the Right Biking Masks with Filters?
Masks that carry a carbon filter out 95% of particles from the air you breathe. Note that very few masks can filter out 100% of particulates, and for most situations, those masks are unnecessary. When it comes to keeping the COVID-19 at bay, carbon masks stop particles much smaller than the virus.
Final Thoughts on Cycling Masks vs Coronavirus​
The pollution prevention abilities of cycling mask make it ideal for many people, especially during the COVID-19 outbreak.
Mesh cloth cycling masks with carbon filters are comfortable than other masks on the market and allow users to remain active without compromising their health. Neoprene biking masks are great for cold weather.
To know more, please check Cycling Masks Against the Coronavirus.
Source: NEOPRENER