Arcadier to Host World's First Virtual Tech Summit and Competition on Marketplaces
Over 4 months, listen to 40+ Industry Leaders speak and a chance to win 1,000,000 IHG Hotels Points with up to US$250,000 worth of prizes.
Press Release
-
updated: Mar 21, 2018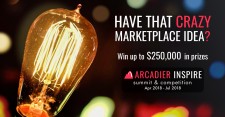 Singapore, March 21, 2018 (Newswire.com) - ​​​​​​​​​From April 1st through July 31st, marketplace platform provider Arcadier will host its inaugural Arcadier Inspire Summit & Competition, a world's first global virtual event which consists of an online tech summit and a build the best marketplace competition. This free event is open to everyone. 
Arcadier Inspire Summit aims to bring together a broad range of industry experts from around the world to share their expertise on how to build, scale and grow marketplaces. The online summit will feature over 40 speakers, including Sarah Brodersen, CEO of Deemly and co-founder and board member of Sharing Economy Denmark;  Lee Boon Teck, Partner, Deloitte, Brad Paterson, VP, Marketing, Intuit; Greg Nance, Founder, Dyad.com, Kerry Wong, CEO, Greater China, REA Group & Chan Yew Kiang, Partner, Ernst & Young. 
Running concurrently with the Summit, is the Arcadier Inspire Competition, a 4-month long, worldwide, virtual event where participants compete for best marketplace category prizes (retail, services, rental and social impact marketplaces), Fan Favourite and a grand prize! The objective of the competition is to encourage entrepreneurship in marketplaces. Participants can register for free as individuals or as a team, build a new marketplace on Arcadier's platform for a chance to win up to US$250,000 worth of prizes.
Arcadier's vision is to make online marketplace technology accessible to anyone, because we believe that marketplaces drive trade efficiency and transparency. Inspire aims to showcase the versatility and power of marketplaces. There is no better way to encourage innovation and entrepreneurship than to hold a global virtual summit and competition that is open to anyone and everyone.
The grand prize winner will receive 1,000,000 IHG Rewards Club Points, an exhibition booth at The Millennial 20/20 Summit, US$2,800 in cash, Startup-O Fast Track Program, and a one-on-one mentorship with Arcadier CEO Dinuke Ranasinghe, amongst many other prizes. Category prize winners will each receive 50,000 Wyndham Hotel Points, US$750 in cash and tickets to Millennial 20/20 and RISE Summits, free hotel stays and many more. There is also the Fan Favourite prize for the marketplace that receives the highest number of votes from fellow competition entrants, summit attendees and the general public. 
Other prizes that can be won include, Arcadier marketplace subscriptions, exclusive deals from event partners: oBike, PromoteHour, aCommerce, Wantedly, Omise, Caregiver Asia, Guavapass, Hyatt Hotels, Artyzen Hotels and OpenSRS/Tucows.
According to Kenneth Low, co-founder and CCO, "Arcadier's vision is to make online marketplace technology accessible to anyone, because we believe that marketplaces drive trade efficiency and transparency. Inspire aims to showcase the versatility and power of marketplaces. There is no better way to encourage innovation and entrepreneurship than to hold a global virtual summit and competition that is open to anyone and everyone."
To learn more about Arcadier Inspire and register for free, click on the link here: https://inspire.arcadier.com
To watch the introduction video here: https://youtu.be/AG3nZbp21iE 
Source: Arcadier
---
Categories: e-Commerce, Saas (Software as Service)
Tags: arcadier, arcadier inspire, competition, ecommerce, online marketplace, saas, sharing economy, technology, technology conference, virtual conference
---