ArborXR Announces Enterprise Content Directory, Helping Companies Discover Top XR Creators and Developers
Press Release
•
May 21, 2023
ArborXR, a leading provider of virtual and augmented reality solutions for enterprises, is proud to announce a curated XR app directory. The directory will connect companies directly with leading independent software vendors (ISVs) in enterprise, healthcare, and education.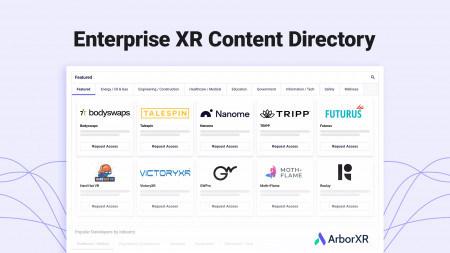 SAN FRANCISCO, May 21, 2023 (Newswire.com) - The platform will launch with 40 best-in-class ISVs, including well-known content developers like Futurus, VictoryXR, Bodyswaps, Tripp, Talespin, GW Pro, Hard Hat VR, Nanome, Reulay, Moth+Flame. Each content creator's profile includes comprehensive information about their team and offers, as well as access to demo apps, allowing companies to get a glimpse of their capabilities and discover the perfect partner.
One of the biggest pain points early on in any company's journey into XR is finding the right vendor that can build relevant XR experiences and help plan for scale. With ArborXR's app directory, companies will discover XR content partners, get immediate access to demo apps, and create more successful XR initiatives.
"ArborXR is dedicated to simplifying the adoption of XR for companies by connecting the best enterprise content creators with organizations in need. By reducing barriers and making it easy to find top-tier VR experiences, ArborXR is revolutionizing the way companies embrace virtual reality technology," said Brad Scoggin, CEO and co-founder of ArborXR.
To join the waitlist, visit: https://arborxr.com/xr-directory
Join more than 2,000 companies in 90+ countries already using ArborXR to manage their AR and VR fleets, and learn more at ArborXR.com. Their mission is to help people live more meaningful lives through the power of XR.
Source: ArborXR