Arachnys Survey Reveals 85% of AML & KYC Analysts Use Google for Due Diligence
Press Release
-
updated: Mar 17, 2020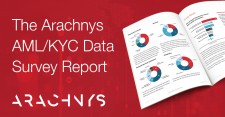 LONDON, March 17, 2020 (Newswire.com) - An industry survey by Arachnys reveals that 85% of AML/KYC analysts admit to using Google for due diligence or risk investigations, with 16% even stating that they rely on it.​ The 2020 Arachnys AML/KYC Data Survey also found:
Analysts are spending nearly half their time processing data into a usable format
Over half need better data on people and companies
Analysts give a modest rating of their company's ability to share data internally
Nearly half think UBO registers will not increase their confidence in entity data
Arachnys globally surveyed 156 AML & KYC professionals, with just under half working in the financial sector. The survey reveals that, although the past decade has seen huge advances in using technology to improve AML investigations and KYC processes, the general consensus is that there is still a lot of room for improvement, with Google still very much a prominent player in a practitioner's toolbox.
David Buxton, founder and CEO at Arachnys, commented, "When I founded Arachnys almost a decade ago, I wouldn't have believed you if you had told me that four in five organizations would still be using Google heavily to drive mission-critical AML and KYC processes. As Google continues to blur the line between advertisements and content, and reduces the precision of its search syntax to prioritize consumer searches, alternatives become more and more critical."
Time spent on manual collection and processing data is clearly still a major pain point in the industry, which is underlined by survey respondents indicating they spend nearly half their time processing unstructured data into a usable format. Sharing data internally is also an issue, with respondents rating their company 49/100 (on average) to share and collectively maintain customer and counterparty data across their organization.
"In a sense, the least surprising finding is that practitioners need more and better data about their customers" explained Buxton. "The required bar for ownership, entity information and related parties is constantly rising, and we have seen firsthand how – especially for complex or multi-jurisdictional cases – there's no single source of truth available."
You can download the full survey report here.
About Arachnys
Arachnys helps the world's banks and global corporations have confidence in the people they do business with, enabling fast, high quality and defensible risk decisions about their customers and counterparties for KYC, AML and EDD. Founded in 2010, they provide the world's largest library of risk-relevant data and streamlined and automated processes, with fast configuration-based deployment powered by the cloud. For more information, visit www.arachnys.com or for further inquiries about our survey, please email marketing@arachnys.com.
Source: Arachnys
Share:
---
Categories: Business Finance
Tags: aml, due diligence, google, kyc, risk, survey
---