AQuity Solutions Earns #1 Client Rating for Outsourced Medical Coding Solutions, Black Book Survey
Press Release
•
Jun 26, 2023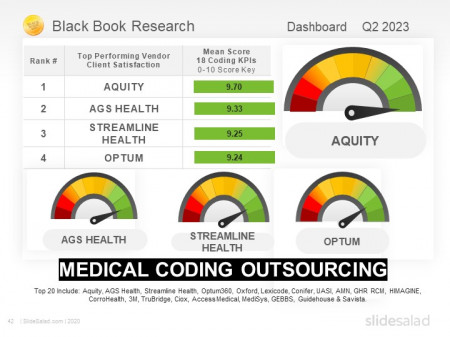 NASHVILLE, Tenn., June 26, 2023 (Newswire.com) - Black Book™, recognized for accurate, impartial customer satisfaction surveys in the healthcare services and software industries, conducted a comprehensive crowdsourced user poll to determine the highest-ranked outsourced medical coding solutions.
In total, 1,691 clients of 62 Coding outsourcing vendors responded to the Black Book polls in Q1-Q2 2023, measuring how providers are dealing with future-proofing their coding technology, decreasing staffing costs, and resource shortages with state-of-the-art coding software and managed services.
AQuity ranked first across twelve of eighteen key performance indicators factors focused on customer satisfaction from both managerial and user level experience including Strategic Alignment of Client Goals, Innovation, Client Relationships and Cultural Fit, Trust and Accountability, Breadth of Offerings, Deployment, Customization, Scalability, and Best in Breed Technology.
"AQuity is recognized repeatedly for the success of the company because it has built on a winning combination of unparalleled customer service, innovative applications of technology, reliability, and transparent processes by seamlessly integrating EHR, artificial intelligence, coding proficiency, and documentation workflow," said Doug Brown, President of Black Book.
About Black Book™
Black Book Market Research LLC provides medical coding clients, healthcare IT users, media, investors, analysts, quality-minded vendors, and prospective software and services buyers with comprehensive comparison data of the industry's top respected and competitively performing solutions vendors. The largest user opinion poll of its kind in healthcare IT, Black Book™ collects over 1,200,000 viewpoints on information technology and outsourced services vendor performance annually. Black Book is internationally recognized for over 18 years of customer satisfaction and loyalty polling, particularly in technology, services, and outsourcing industries.
Black Book™ founders, management, and staff do not own or hold any financial interest in any of the vendors covered and encompassed in this survey including AQuity Solutions, and Black Book reports the results of the collected satisfaction and client experience rankings in publication and to media prior to vendor notification of rating results. Overall category ratings can be viewed at https://blackbookmarketresearch.com/coding-health-information-management
Follow Black Book on Twitter @blackbookpolls and LinkedIn (https://www.linkedin.com/company/blackbookmarketresearchllc).
For methodology, auditing, resources, comprehensive research, and ranking data, see https://blackbookmarketresearch.com. Black Book FAQ including responses to recent reports can be viewed at https://blackbookmarketresearch.com/FAQ.
Source: Black Book Research