Apure Launches New MINUS Architectural LED Lighting Fixtures
Minimal recess, sleek design and discreet light source provides architectural flexibility
Press Release
-
updated: Oct 25, 2017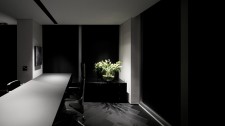 MIAMI, FLORIDA, October 25, 2017 (Newswire.com) - Apure (www.apure-system.com), an innovator and manufacturer of state-of-the-art architectural lighting, today announced the launch of its new MINUS product series. With an ultra-thin profile for minimal recess and an almost imperceptible aperture, the MINUS is designed to enable higher ceilings and architectural flexibility.
The MINUS, designed by the renowned PORSCHE DESIGN STUDIO, combines performance with a clean, sophisticated aesthetic. It has proprietary precision optics engineered to distribute light very evenly without any glare. The fixture itself is invisible to the eye, a breakthrough in lighting technology. And it is available in two form factors; MINUS ONE, a round finish, and MINUS TWO, a square finish.
Designed to save overhead space, the MINUS addresses the trend for modern, higher ceilings. Its minimal recess requires just 3/4 inch (19mm) space enabling the raising of ceiling height. As well as being an ideal choice for new, modern construction projects, the MINUS can be installed with just furring strips, maintaining high ceilings in renovation projects or new constructions.
"MINUS is a high performance fixture that is designed to blend with its surroundings," said Uli Petzold, Apure founder and CEO. "It offers architectural flexibility, enabling ceilings to be raised higher and delivering more natural light in hallways, bathrooms, kitchens and even over dining tables. Offices can now be illuminated with glare free lighting which boost the efficiency of employees. It's a good option for renovations where architects are looking for a more modern environment, with space and a feel of natural light."
The MINUS product is offered with a 2700K, 3000K, or 4000K CCT with 80 or 90 CRI. It is fully dimmable, flicker free down to 1% and using proprietary microchip technology boasts a lifetime of 50,000 hours at 100% (LM80). Lumen output from source is 1140 and 5 fixtures can be powered by one 100W transformer.
Feature summary:
-        MINUS ONE aperture of just 0.4 inches (10mm)
-        MINUS TWO magnetic louver of 1 inch (25mm) square
-        Recess only 3/4 inch (19mm)
-        Lumen output of 1140 from source
-        20° or 40° beam angle options
-        Glare-free
-        Low voltage
-        50,000 hour lifetime at 100% (LM80)
-        Fully dimmable, 1-100%
-        Three color temperature options, 2700K, 3000K and 4000K
-        80 or 90 CRI
-        5 fixtures per 100W transformer
-        High performance LED light source
MINUS is available immediately. More information is available on the Apure website at www.apure-system.com/minus.   
About Apure
Headquartered in Miami, Florida, Apure is a high-end lighting manufacturer specializing in developing innovative and state of the art fixtures to complement interior and exterior design. Engineered and manufactured in Germany, Apure's main objective is to produce high-performance products with the ability for customer personalization as standard to make lighting fixtures part of the design's entire esthetic. Apure lighting solutions can be found in commercial and residential environments where architectural design is important. The company was recognized with a Red Dot award, the international distinction for high design quality, in 2016 for its Opus product and with the European Design Award in 2017 for the MINUS.
More information about Apure is available at www.apure-system.com.     
Media Contact:
Jason Broadhurst             
514-971-2514                                  
broadhurst.jason@gmail.com
Source: Apure
Share:
---
Categories: Business to Business, Construction, Design and Architecture, Home Improvement and Renovations, Facilities Maintenance & Management, Lamps and Lighting
Tags: architecture, illumination, interior design, lighting, lighting design, renovation
---