Apt2B is Feeling the Love With a New Take on Tie Dye
Apt2B Commemorates The Summer of Love's 50th Anniversary With A Groovy New Sofa
Press Release
-
updated: Jun 21, 2017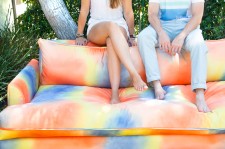 Los Angeles, CA, June 21, 2017 (Newswire.com) - Apt2B, the Los Angeles-based furniture brand that's setting the tone for online furniture trends, is headlining the 50th anniversary of the Summer of Love by introducing the Ashbury sofa in a modern throwback tie dye pattern.
On June 21st, 2017, Apt2B celebrates the summer solstice by inviting the limited edition Ashbury to take center stage in Apt2B's summer lineup. Each sofa features a one-of-a-kind psychedelic tie dye pattern in today's hottest color palette. True to the spirit of tie dye, no two Ashburys are the same. And true to the spirit of Apt2B, you know you're getting a quality made in the USA sofa that's custom built-to-order in downtown Los Angeles.
The new Ashbury Tie Dye Sofa is so good that you have to see it live! That's why Apt2B is kicking off the summer in style by taking it on the road for its very own version of the magical mystery tour. Following the famous Pacific Coast Highway from Los Angeles to San Francisco all the way up to the Haight (the birthplace of the Summer of Love), the tie dye sofa will be making stops at all the hippie hideouts along the way. Be sure to take the trip with Apt2B on social media @apt2b.
This is a passion project for Apt2B co-founder and curator, Mat Herman, who has an unabashed love for tie dye. "I grew up in the '80s and my mom would take me to the big summer festivals and sold tie dye merch to all the concert goers. A tie dye sofa is something I've always wanted to do. Why should we just be wearing the latest trend, we should be sitting on it too." Now that his vision has been actualized it highlights the fact that tie dye isn't just a kitsch throwback - it's a contemporary tour-de-force.
Starting at $1,588, the limited edition Ashbury is going to make your home feel the love. Stay tuned to @apt2b on social media to find out where the Ashbury is going to be on its tour.
Source: Apt2B
Share:
---
Categories: Design and Architecture, Interiors and Decoration, Home
Tags: Apt2B, decor, design, furniture, home, summer, tie-dye
---