April Once Again Becomes "Pink" in Western Industry
Twisted X Brands will host Western Tough, Tough Enough to Wear Pink Month-long Event
Press Release
-
Mar 30, 2016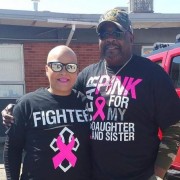 Decatur, TX, March 30, 2016 (Newswire.com) - Twisted X believes October doesn't have to be the only month in which we pay attention to breast cancer awareness. 
Twisted X partnered with Tough Enough To Wear Pink (TETWP) in 2015, offering several styles of footwear with the pink breast cancer ribbon on them.  For each style sold, a portion of the sale goes to TETWP, which supports breast cancer research and care programs.  To date, Twisted X has contributed $102,000 for the non-profit organization.
"As we put the agreement with Tough Enough to Wear Pink together, we noticed how many other western brands were also doing products that benefited the organization, and we thought, the western industry is comprised of about 150 million individuals, we could make a real impact here." explained Prasad Reddy, CEO of Twisted X.  He continued, "We decided to claim a month of our own for the industry to band together to fight breast cancer, April became that month."
In addition to highlighting the product offering in April, Twisted X plans to highlight a courageous story about an individual who has dealt with breast cancer every day during the month on social media to raise awareness and enable a broader understanding about what a breast cancer diagnosis entails. "By sharing the stories of these women and men, we put faces and experiences to breast cancer, and hopefully, along the way, educate people on prevention and frequent testing," said Reddy.​
Twisted X isn't stopping with social media.  Retail locations around the country have also jumped on board the April promotion, adding the Twisted X TETWP product to their offering and pledging to host "Pink" events within their stores.  The events include staff and patrons wearing pink, giveaways, door prizes, etc.  Hundreds of retailers plan to participate.
The other brands that offer products in the industry are American Hat Company, Hooey, Montana Silversmith, Purple Cowboy wine and Wrangler.   These brands, along with Twisted X, promote their own breast cancer awareness products during the month of April and they will also help promote the social media push.  Twisted X encourages stores to merchandise all of the participating brands' products together as a sign of solidarity to fight breast cancer and show of support to TETWP.
Twisted X encourages everyone to get involved by reading the amazing stories during the month of April and sharing within their networks.  Retailers interesting in participating in the April promotion should contact their Twisted X sales representative or the Twisted X offices for more details, 888.894.2668.
About Wrangler® Tough Enough To Wear Pink? ™ (TETWP™)
Wrangler® TETWP™ was created by entrepreneur and breast cancer survivor Terry Wheatley to bring the sport of professional rodeo and the western community together to rally against breast cancer.  Since its inception in 2004, Wrangler TETWP has empowered rodeos in the U.S. and Canada to focus attention on the need for a cure.  To date, the campaign has raised $20 million for breast cancer charities, most of which stays right in the local communities. The grassroots movement has inspired other sports communities to mount their own Wrangler TETWP campaigns, spreading a message of hope and support that reaches beyond the rodeo arena to competitors, families and fans across America. For more information on how to help, visit www.toughenoughtowearpink.com.
About Twisted X
Founded in 2005, Twisted X Brands proudly celebrates more than ten years of delivering handcrafted, design-patented comfortable footwear to its growing customer base of men, women and children.  Primarily focused on core western boot styles, the company recently has added an extensive line of comfort casual footwear and licensed accessories to its portfolio.  Find out more at www.twistedxboots.com.
# # #
Share:
---
Categories: Non Profit, Fashion and Apparel, Fund Raising
Tags: boots, breast cancer, cancer, cowboy, cowboy boots, footwear, pink, pink ribbon, prevention, shoes, Tough Enough To Wear Pink, western
---