AppMySite Launches World's First AI-Powered DIY Mobile App Builder
Press Release
•
updated: Nov 17, 2020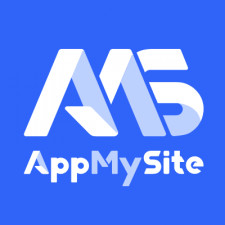 WILMINGTON, November 17, 2020 (Newswire.com) - ​​​​​​​AppMySite is an AI-powered mobile app builder that enables online businesses to create native Android and iOS mobile apps for WordPress & WooCommerce websites, without coding. It extends the ability to personalize, build, and preview mobile apps for free. Users can set up ready-to-publish mobile apps within minutes for launch on the Google Play and Apple App Stores.
App usage has grown significantly over the last couple of years. As of 2020, WordPress currently powers approximately one-third of the internet, which is a whopping 455 million websites. However, the number of online businesses that have a mobile app for their WordPress website is considerably low due to the complexities and extravagant effort required to create an app.
A website is no longer enough to independently power the growth of any business or brand. Thanks to AppMySite, users can now make premium and high performing native mobile apps without burning holes in their pockets.
Apps built with AppMySite are delivered instantly, thus maximizing the returns on investment as compared to conventional mobile app development. It also enables subscribers to design, customize, build, and test apps for free before launch, thereby challenging the prepaid culture.
Due to this holistic and consumer-friendly approach, AppMySite has achieved numerous milestones. In a short span since its launch, it has enabled over 25,000 subscribers to create their own apps successfully without writing any code.
The reason behind AppMySite's growing user base is its commitment to providing the ideal app building experience that starts with in-depth customizability. Features like intuitive UI design, feature customizations, app settings, web-view enhancements, and more give users the ability to build apps that match their vision.
A powerful add-on library also provides users the option to increase the functionality of their apps. AppMySite also rolls out regular updates to provide the latest features and functionalities to its users.
The story does not end here. The AppMySite WordPress app plugin further simplifies the connectivity between the website and the app.
The Connectivity Troubleshooter helps better connect the website to the free app maker. The real-time sync populates website data on the app automatically. Any updates made to the website reflect on the app instantaneously.
One of the unique features is the app preview section. AppMySite provides users the ability to test their WordPress app or WooCommerce app on both mobile emulators and physical mobile phone devices.
App building on AppMySite is very easy and does not require any prior mobile app development experience. Nevertheless, it has a comprehensive help center that explains how to create an app and launch it on the app stores.
Lastly, the subscription plans are affordable and shaped for those looking for flexibility when building an app.
AppMySite's vision is to democratize the process of mobile app development and to make it accessible to all. It offers an efficient app building solution that takes away the complications of conventional mobile app development.
Source: www.appmysite.com