Applied Scientific Research, Inc. Developed Patented Breakthrough Technology to Pull Drinking Water Out of Air
The company is currently seeking investors to ensure this breakthrough technology helps in ensuring clean water access around the globe.
Press Release
-
updated: Aug 15, 2017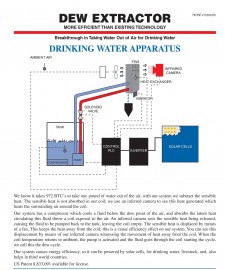 Dyer, IN, August 15, 2017 (Newswire.com) - Inventor and engineer Bob Biancardi, CEO of Applied Scientific Research, Inc. has a mission to bring clean, fresh water to some of the world's poorest countries. He recently received a patent (Patent No: US 8,833,091 B2) from the United States Patent and Trademark Office for his new technology that takes water out of the air and converts it to drinking water. This new technological invention is in compliance with the laws of thermodynamics.
Having access to clean, fresh water remains a dire situation for those living in poor countries around the globe. UN-Water, the organization that coordinates the United Nations' work on water and sanitation has noted that with 85 percent of the world population living in the driest half of the planet some 783 million people do not have access to clean water and almost 2.5 billion do not have access to adequate sanitation.
The water crisis is a health crisis with more than 1 million people dying each year from water, sanitation and hygiene-related diseases. Every 90 seconds a child dies from a water-related disease. Women and children are most affected, according to UN-Water. They can spend up to six hours each day searching for a clean water supply, often leaving them at risk of violence and exploitation as they travel. Children also miss critical time in school searching for water.
"Our goal is to address this clean water crisis by taking water out the air in third world countries and use it for drinking water," says Biancardi. "I'm interested in getting this project off the ground, as I believe this is a life changing concept. I want to share or partner with others who understand the need for clean drinking water around the globe."
The new breakthrough technology powered by solar cells uses a standard compressor to a tank, which holds the fluid that circulates through copper coils that are exposed to the air. When the condensing happens, the latent heat and sensible heat is released. While most systems absorb this energy, this doesn't. The system lets the atmosphere absorb it, causing a great energy saving. This means that it can take water out of the air for a lot less energy than the existing technology because it's using the surrounding atmosphere as an energy source.
A sensor alerts when the absorbing process is complete. The sensor also lets the user know when the condensate has occurred, putting the system in pause until the cycle starts all over again. In the meantime, there is cooling going on in the tank so no fluid is exposed to the air at this time.
To learn more and connect with Biancardi about potential partnership opportunities, contact him via email at Drip2134@yahoo.com.
About Applied Scientific Research, Inc.
Applied Scientific Research, Inc was launched by Bob Biancardi. The company currently has a patent on innovative technology that will take water out of the air for use as drinking water in third world countries.
Media Contact:
Bob Biancardi
Email: Drip2134@yahoo.com
Phone: 219-365-5058
Source: About Applied Scientific Research, Inc.
Share:
---
Categories: Sciences, Patents and Copyright, Thermodynamics, Engineering
Tags: Applied Scientific Research, Bob Biancardi, Engineering, Invention, Patent, Science, Technology, Thermodynamics, Water
---