Apple Montessori Hosts Open Houses 4/30-5/22
Press Release
•
updated: Apr 19, 2018
15 NJ Locations for Children Ages 6 Weeks to 12 Years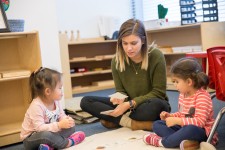 RIVERDALE, N.J., April 19, 2018 (Newswire.com) - Apple Montessori Schools is hosting open house events at 11 of their NJ locations between April 30 and May 22.
Parents who are looking to give their child the best possible start are invited to attend and learn how the Apple Montessori approach is designed to do just that. Families and their children will get a chance to meet Apple's team of trained and qualified educational professionals, and experience their meticulously prepared classrooms that enable self-discovery at a child's own pace. Attendees will also learn how family owned Apple makes the most of the critical learning years from birth to age by cultivating the unique potential of each child. Parents and guardians can learn more by visiting https://www.applemontessorischools.com/may-open-houses.
My daughter has been going to AMS since she was 2. She is now graduating from the Kindergarten program and is reading and doing math at a 2nd-grade level! The school is amazing! We are so very blessed to have found AMS and could not be happier.

Robert C., Apple Montessori Parent
Apple offers quality early childhood education programs for children ages 2 to 6, as well as infant, toddler, and elementary programs in many locations.
Why Choose Montessori
Scientific research confirms that Montessori children have an advantage academically, socially and emotionally. The Montessori approach works because it educates the whole child and truly prepares them for the rest of their lives.
Montessori teaching empowers each child to follow the natural rhythm of his or her development. By providing gentle guidance in a warm and nurturing environment, Montessori teachers help students engage in self-directed and self-motivated learning with hands-on materials that bring abstract principles to life.
That self-motivation is key, according to Apple's president, Joanne Mooney. "The world is continually changing," says Mooney. "That's why Apple helps every child develop the skills that will prepare them for the future, no matter what it holds. Independence, leadership, curiosity, and a deep love of learning are important for success in any field. Kindness, compassion and respect are fostered as key to overall happiness socially, emotionally and beyond."
Apple Montessori prides itself on its unique offerings that set it apart from other Montessori schools such as the abundance of high quality Montessori materials in the classroom, foreign language curriculum, music and art enrichment, character education, FasTrackKids gifted and talented program, and so much more. Apple is also well regarded for its unique reading program by which children learn to read by age 4 and its exceptional infant, toddler, elementary and summer camp programs.
The Apple Difference
Apple Montessori has been a strong local presence for 45 years educating tens of thousands of children. Throughout those years, the school has never stopped evolving to stay ahead of the latest advancements in early education while staying true to the core Montessori philosophies upon which it was founded. Apple combines time-tested Montessori principles with continuous team training, security and facility upgrades, and research-backed curriculum. It's no wonder that local parents have voted Apple Montessori their Most Loved Preschool.
A Well-Recognized Organization
Apple Montessori School is a candidate school of the prestigious Middle States Commission on Higher Education and a proud member of:
· The International Montessori Society
· New Jersey Montessori Association Corporation
· New Jersey Association of Independent Schools
Open house events will be taking place at:
· Cliffside Park on Friday, May 11 (9:00 a.m., 10:00 a.m., 1:00 p.m., 2:00)
· Edison on Tuesday, May 1 (7:00 p.m.)
· Hoboken Maxwell Lane on Friday, May 4 (9:15 a.m., 10:15 a.m., 1:15 p.m., 2:15) and Saturday, May 12 (Summer Session Open House at 10:00 a.m.)
· Hoboken Sinatra Drive on Saturday, May 5 (9:15 a.m., 10:15 a.m., 1:15 p.m., 2:15) and Friday, May 18 (Summer Session Open House at 10:00 a.m.)
· Kinnelon on Thursday, May 3 (9:00 a.m., 1:30 p.m.)
· Mahwah on Wednesday, May 9 (9:00 a.m., 1:30 p.m.)
· Morris Plains on Wednesday, April 30 (9:00 a.m., 9:30 a.m., 1:30 p.m., 2:00, 2:30)
· Oakland on Tuesday, May 1 (9:00 a.m., 1:30 p.m.)
· Randolph on Friday, May 4 (9:00 a.m., 1:30 p.m.)
· Towaco on Wednesday, May 2 (9:00 a.m., 1:30 p.m.)
· Wayne on Tuesday, May 22 (9:00 a.m., 1:30 p.m.)
About Apple Montessori Schools: Family owned Apple Montessori Schools have inspired a love of learning for over 45 years. The infant, toddler, preschool/kindergarten, and elementary programs are not only child-inspired, they are research-proven. The core of Apple's mission is nurturing the whole child – intellectually, socially, emotionally, and beyond. By recognizing that no two children are the same, Apple's approach cultivates the unique potential of each and every child in a caring, safe, and supportive school environment. The school's team of educators, many of whom have been with Apple 5, 10, 20, and even 30 years, make the most of children's critical early learning years. Apple Montessori has fifteen schools located in north and central New Jersey. Learn more by visiting www.applemontessorischools.com.
Source: Apple Montessori Schools
Related Media
Tags
Additional Links