Apex Site Solutions Wins National U.S. Small Business Award for Business of the Year
Press Release
•
May 25, 2023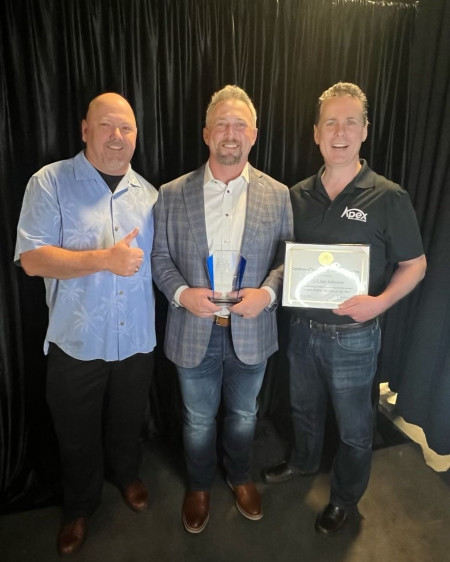 ELK GROVE, Calif., May 25, 2023 (Newswire.com) - The U.S. Small Business Administration's Sacramento District Office has named Apex Site Solutions the Sacramento District Office Veteran-owned Small Business of the Year. This honor highlights the innovation, ingenuity, and determination of this remarkable company.
"The greatest award our company can receive is centered on service - serving our customers, our family, our community and our country," said Kenny Blakeslee, CEO/President of Apex Site Solutions. As a United States Navy veteran, Blakeslee is grounded on service. His military training laid the foundation of his success and his creed to be 1% better every day.
U.S. Small Business Administration, Sacramento District Office District Director, Heather Luzzi, said, "Celebrating small business achievement and resilience is not something we get to do every day, but we can during the first week of May during National Small Business Week." The winners were recognized during the Capital Region Small Business Week.
Last year, Blakeslee was celebrated as a 40 under 40 honoree by the Sacramento Business Journal for his leadership of his organization.
Apex Site Solutions
Apex Site Solutions offers advanced construction and technical expertise for the wireless industry, proudly connecting the Western United States since 2010. The mission of the organization is to transform lives by providing growth and development opportunities that empower our TRIBE.
Apex Site Solutions' commitment to rise above doesn't stop with our customers. The growth of Apex isn't just about filling jobs; it's designed to launch and develop careers that positively impact families and future generations. Growth and advancement of team members is a core component of our mission and includes extensive training, career development and competitive comprehensive compensation packages.
The Apex Team shows up, stands up, and speaks up for causes that matter and find solutions to strengthen the communities we serve. When connected for a cause and partnered for purpose, the tribe is better, stronger, and healthier. The power of partnership is on full display through our partnering with 3 Strands Global to create and launch T.A.T.E, an industry-wide initiative to help fight human trafficking, training and hiring our nation's veterans through Allegiant Giving, honoring First Responders with the Sacramento Kings, creating and hosting an annual Brewfest to build community and funds for charitable giving, and supporting families through the Tower Family Foundation.
About the U.S. Small Business Administration
The SBA empowers entrepreneurs and small business owners with the resources and support they need to start, grow, or expand their businesses. To learn more, visit www.sba.gov.
###
Media contact: Kenny Blakeslee at kenny@apexsitesolutions.com or by phone at 916.685.8619.
Source: Apex Site Solutions