Anvl Solidifies Its Position as a Leading Connected Worker Application With Expanded Windows Compatibility
Press Release
•
Jun 7, 2023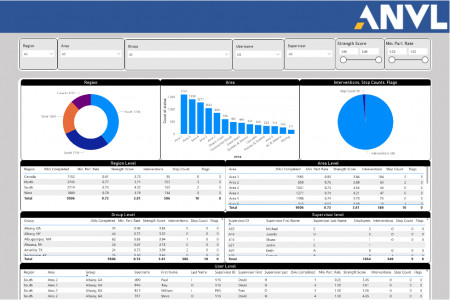 CINCINNATI, June 7, 2023 (Newswire.com) - Anvl, a globally recognized connected worker platform, further strengthens its position as an industry leader, with a Microsoft and Windows capabilities package. This expansion encompasses a new Windows application for any mobile or desktop device, Single Sign-On for Microsoft Azure, Microsoft Power BI Integration, and soon-to-be-released generative AI capabilities leveraging Microsoft's Chat GPT4. These product advancements allow Anvl clients, like Cummins and Constellation Energy, to ensure 100% adoption across their frontline workers and supervisors and generate trustworthy, next-gen insights and analysis for their Safety and Quality leaders.
The expansion into Microsoft and Windows makes Anvl the world's first and only connected worker platform to provide an internationalized Windows, iOS, and Android application that functions offline. This is significant as the Windows operating system is the most widely used platform in industrial industries.
Anvl's commitment to user security remains paramount, as evident by its implementation of Microsoft Azure Single Sign-On, which ensures the highest level of security while improving the end-user experience for frontline workers. Additionally, Anvl proudly holds the SOC 2 certification, affirming its adherence to industry best practices and security protocols. This addresses the specific needs of industrial companies that experience higher turnover rates, offering a solution that simplifies and optimizes user management and enhances productivity.
The integration of Power BI further enhances Anvl's capabilities, enabling users to gain comprehensive insights by aggregating and analyzing safety and quality data within their existing business analysis infrastructure. This integration empowers companies to make data-driven decisions and achieve better results across their operations.
"We listen to our customers and overwhelmingly, they want solutions that fit within their existing environments, and that means Microsoft," said Anvl CEO Zach Taylor. "Add the machine learning and artificial intelligence capabilities of ChatGPT4 to the next-gen data Anvl is capturing, and our clients can truly transform and future-proof their business."
These new capabilities follow a series of product capability additions, including multi-language support, photo and video capability, and Salesforce integration. With these advancements and the continual expansion of features that address the evolving needs of its users, Anvl solidifies its position as a modern pioneer, revolutionizing connected worker platforms in the industry.
About Anvl:
Anvl is a global connected worker platform that enables frontline workers and leaders to better prepare, protect, and inspect how work gets done. Its platform is designed to improve safety, quality, and productivity in the workplace by providing a comprehensive and customizable solution that meets the evolving needs of organizations across various industries. Visit Anvl's website: https://anvl.com/ or LinkedIn: https://www.linkedin.com/company/anvl/
Source: Anvl
Tags