ANTVR Launch MIX, Smallest AR With Immersive 96°FoV in the World, on Kickstarter
Press Release
-
updated: May 16, 2018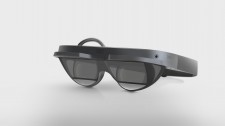 BEIJING, May 16, 2018 (Newswire.com) - AntVR has announced the release of its first augmented reality headset - MIX - on Kickstarter for $500. MIX will be the world's smallest Augmented Reality (AR) headset with an immersive 96° field-of-view (FoV). MIX's advanced sensors give users a truly immersive AR experience that integrates seamlessly into the real world environment. What also sets the MIX apart is that the headset only weighs 130g, Providing users with unmatched ease of use, comfort, and versatility.  
MIX's monocular FoV is 96.1 degrees diagonally (82.9 degrees horizontally). This impressive FoV, which is much wider than the majority of other AR devices available on the market, is the result of AntVR's Dual-Channel Mixed Optics. The Dual-Channel Mixed Optics is an innovative optical system, developed by AntVR, that combines the outside environment and enlarged display light through two separate optical channels to present AR vision with a larger FoV. This means the MIX gives users a truly genuine immersive AR experiences with a small, comfortable and easy to use headset that is simply not possible on other devices.
MIX's extensive FoV gives users a remarkably fluid and natural stereoscopic experience directly through the glasses. Meaning users are no longer required to hold up additional devices to their face to see AR content. In this regard, the headset offers a 1200 x 1200 display in each eye with a 90Hz refresh rate. The inside-out tracking offers six degrees of freedom. These innovative applications add to MIX's advanced capabilities that allow users to have a completely immersive AR experience.
We believe that AR will be the next generation computing platform, and Instead of waiting for satisfactory AR glasses, we've decided to step forward on our own to create them.
The positional tracking can help deliver a complete AR experience that is all around the user. This means virtual objects, like holograms, will remain in place in the real environment rather than moving with the user, even when not in the users' vision.
Content is a crucial element for any AR headset. With this in mind, Mix's built-in features all it to connect to PC's and is designed to be compatible with StreamVR. Existing games on StreamVR that have a dark background can be used on MIX, however instead of a dark area, through the headset users will see the real environment. The headset also features two USB ports to connect extension modules to increase the breadth of diverse interaction users can have in AR. Add-on features include eye tracking, hand tracking, and controllers.
For those who want to explore the possibilities of AR content creation, it has never been easier. By using a common StreamVR SDK users can now create AR applications. For users that have experience developing content on SteamVR, all that is required is to clear the background and apply the black skybox. Once this is done VR projects will transfer to AR.
Alongside the creation of entertainment applications, Mix can also be utilised as the basis for the development of programs in a variety of other fields. These include education, exhibition, design and other types of industry.
Since initial development, the MIX has undergone continuous refinement with the team engaging with the wider AR and VR community. As a result, the MIX takes everything people love about AR and makes it even better for inspiring a new age of gaming, creativity, and learning.
Kickstarter Link: https://www.kickstarter.com/projects/805968217/mix-the-smallest-ar-glasses-with-immersive-96fov
About ANTVR
Founded in 2014, ANTVR is a company focused on the development of Virtual Reality (VR) and Augmented Reality (AR) technology and products. Having successfully completed its first crowdfunding campaign on Kickstarter, the company acquired investment from Sequoia Capital. Since then ANTVR has introduced several VR products to the market—selling over 1 million of these in Europe, Asia, and North America. It has also built-up considerable co-brand collaboration and partnerships with established leaders in technology including Lenovo, Motorola, OnePlus, and AOC. Now, with its own innovative technology, ANTVR is stepping into the AR market.
Source: AntVR
---
Categories: Consumer Electronics
Tags: AR, Augmented Reality, Consumer Electronics, Crowdfunding, Hardware, Mixed Reality, Virtual Reality, VR
---