Antiwar Comedy Shorts Concludes Festival Run With 80 Festivals, 11 Awards
Antiwar Comedy is alive and well!
Press Release
-
updated: Mar 13, 2018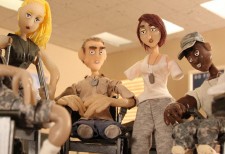 ANN ARBOR, Mich., March 13, 2018 (Newswire.com) - Based in Michigan, but shooting their films in Hollywood, Antiwar Comedy Shorts has produced eight films in the last two years. The first two were submitted to festivals. Among the 11 awards won were Best Comedy, Best Social Commentary, Best Short Film, Best Animated Short, and Best Actor Under 18 (for eight-year-old Kobe Humphries). Writer/director Jonny Lewis did not submit the other six films: "It's nice to receive awards, but it's not really about any particular film. It's about showing there is a willingness to consider the antiwar point of view, and about using comedy to open people up to serious issues."
Lewis has always been antiwar, though he admits to "playing army" when he was a kid, "because that's what society shows us on TV and in movies—that to be a man is to be strong, and help your buddies, and kill the bad guys." He got started writing antiwar comedies when he took to heart the words of Mark Twain: "All war must be just the killing of strangers against whom you feel no personal animosity; strangers whom, in other circumstances, you would help if you found them in trouble, and who would help you if you needed it."
Aside from the award-winners—Gonna Be a Soldier and the animated G.I. Hospital—one of Antiwar Comedy Shorts most popular films on YouTube is Block This Caller, which portrays the scenario Twain describes: An Iraqi and an American meet randomly in the desert and decide not to fight, despite pressure to do so from "the higher-ups" (and perhaps despite viewers' expectations that there must always be conflict between two such characters).
Says Lewis: "Our next step is to make the films available to the antiwar/peace community." The films are offered free, and are not copyrighted. Lewis is working with Veterans for Peace and other groups to use the films in their outreach programs. (A Google search on "Truth in Recruiting" clicking on the "Video" tab brings up the Antiwar Comedy Shorts film with that title as the first result.)
Antiwar Comedy Shorts is the brainchild of writer/director Jonny Lewis, an Associate Member of Veterans for Peace in Michigan.
www.AntiwarComedyShorts.com
www.youtube.com/c/AntiwarComedyShorts
Contact:
Jonny Lewis
323-286-3999
jonnytheactor@gmail.com
Source: Antiwar Comedy Shorts
Share:
---
Categories: Movies, Television, Comedy, Agents and Representation
Tags: animation, antiwar, comedy
---