Anthony Fok Becomes First Millionaire Tutor in Singapore to Be Featured on CNBC
Press Release
•
Oct 31, 2016
Super tutor earns in excess of $1 million a year.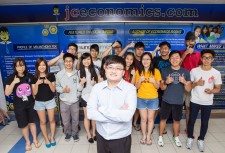 Singapore, Singapore, October 31, 2016 (Newswire.com) - For a good while, Anthony Fok has become accustomed to celebrity status as one of Singapore's 'super tutors'; however, he has now added to his fame by being the first millionaire tutor to be featured on CNBC in an article written by Dan Murphy in September 2016.​
Fok founded JCEconomics.com, an A-level Economics tuition center, in 2012 and is consistently oversubscribed and has had parents offering up to $20,000 to guarantee an 'A' grade for their child. While Fok does not accept offers like this, he remains one of the highest-earning Economics teachers in Singapore.
In the highly competitive environment that faces high school students seeking higher education, good A-level grades are keenly striven for. The CNBC article mentions the "high stakes tuition culture in Singapore" and suggests that the pressure to obtain good grades impacts on students' wellbeing. There is the possibility that the current attitude may be gradually changing but meanwhile students and their parents still want those high grades – and many parents are able and willing to pay a high price for tuition to obtain them. Many of Fok's students credit him with turning them from failure to success, claiming that they have increased their understanding of the subject due to his teaching. Of the students enrolled in his classes, around 50% score 'A' grades and 85% earn either an 'A' or a 'B'.
Fok is currently reducing his teaching hours to enable him to pursue a PhD in education; however, he remains available to students via text and phone 24/7 in order to answer queries or help with questions the student may be finding difficult. In addition to his teaching schedule, Fok has written guidebooks on Economics.
For more information, visit JCEconomics.com
+++
About JCEconomics.com
A top A-Level Economics tuition centre in Singapore, JCEconomics.com was created by Mr. Anthony Fok, who was featured in the Sunday Times as one of Singapore's most popular tutors. Mr. Anthony Fok has earned this title through a track record of effecting significant improvements in many of his ex-students' grades in Economics. Mr. Anthony Fok started off his teaching career as an MOE school teacher and is applying his teaching experience as the principal tutor at JCEconomics.com. He is the author of Ten Year Series H1 Economics and Ten Year Series H2 Economics, both annual compilations of the GCE A-level Economics papers from previous years, as well as 13 guide books on the subject.
+++
For media enquiries, please contact:
Carlene Yap
Email: contact@artisancomms.com
Tel: + 65 9029 6393
Source: JCEconomics.com
Related Media