Anny's Plastic Tableware Manufactures and Exports Quality Disposable Catering and Food Packaging Commodities at Amazing Prices
Press Release
-
updated: Mar 7, 2017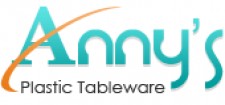 Jinhua City, Zhejiang, March 7, 2017 (Newswire.com) - Anny's Plastic Tableware is a subsidiary of the larger Jinhua Lansin Commodity Co. Ltd. It manufactures and supplies a diverse assortment of disposable food packaging and catering wares to several countries at incomparably affordable costs. The company's disposable dinnerware package includes disposable cutlery, plastic glasses and dessert tableware alongside aluminum foils and foil pans.
Demystifying its success, Anny's Plastic Tableware's CEO chimes, "All our products are designed and produced elegantly to provide a lofty feeling and appearance without straining our buyers' budgets. We have a very strict quality assessment policy to ensure only the best quality products are delivered to our customers at the most friendly quotations to guarantee budget and event comfort. In addition, we strive to make every delivery punctually so our clients can have ample time planning and enjoying their events. We also put relentless efforts to respond to our potential and current customers' enquiries quickly, helping them to reach a speedy conclusion on their desired commodity."
Anny's Plastic Tableware expertly crafts durable microwavable plastic containers using food-graded polypropylene. These containers are ideal for cold and hot food alike as well as for packaging takeaway foodstuffs. They contain lids, come in various shapes, designs and sizes to ensure customer satisfaction. Additionally, these containers can be used as dinnerware, taking the place of plates and bowls. Anny's Plastic Tableware collaborates with major internet-based business platforms to enable its consumers to buy microwave plastic containers online alongside its other loved assortments.
To answer a query regarding customers' preference of Anny's Plastic Tableware's to other suppliers of disposable cutlery and food packaging products, a senior marketing official at Anny's Plastic Tableware responded, "It's essential for food and drinks to be prepared and served early in advance before an event to allow the hosts ample time to enjoy the proceedings with their guests. At Anny's Plastic Tableware we understand that our customers are our bosses. We're thus very keen and attentive to their suggestions touching on any of our commodities. We also update our customers on new releases via email and avail comprehensive online brochures to inform potential customers about our products and services."
Anny's Plastic Tableware offers a diverse selection of intricately designed and beautifully created disposable plastic dinnerware for sale. They supply considerably heavy disposable injected plastic plates and bowls of various elegant shapes and colors as well as disposable thermoformed plastic bowls and plates that are ideal for special events and occasions.
About Anny's Plastic Tableware
Founded in 2007, Anny's Plastic Tableware is a division of Jinhua Lansin Commodity Co. Ltd. With its holdings in Jinhua City in China, it specializes in the production and supply of a vast array of disposable catering equipment and food packaging material to many countries. Organizers of social events within and around China are advised to contact Anny's Plastic Tableware for sale of full sets of disposable dinner equipment, at subsidized prices. For more information visit, http://www.annysplastictableware.com
Source: Anny's Plastic Tableware
Share:
---
Categories: Packaging
Tags: Anny's Plastic Tableware for sale, buy microwave plastic containers online, disposable plastic dinnerware for sale
---