Announcing Cynthia Lopell, Special Event Magazine 2017 Gala Award Winner!
Press Release
-
updated: Feb 22, 2017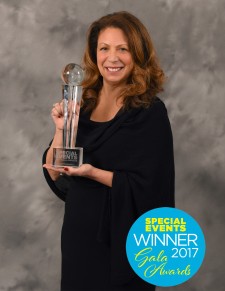 Los Angeles, California, February 22, 2017 (Newswire.com) - Acknowledging Cynthia Lopell, owner of CL22 Productions, a full-service event design,  production and management company as the Special Event 2017 Gala Award Winner for Best Decor in the category of Total Budget: $50,000- $99,000 for their work on the Spectre IMAX Movie Premier event.   
"Nothing is ever accomplished alone, it takes a team and an uncompromising circle of support to step out of the ordinary to extraordinary. From CL22's amazing Creative Director and design partner, Jackson Lowell to our industry partners, who help bring the vision to life down to the last detail."- Cynthia Lopell​
The advisory board at Special Event Magazine hand selected the best of the best in the event industry and honored the creativity of those individuals through the 2017 Gala Awards. This year the Gala Awards were hosted on the last day of The Special Event (TSE) Convention at the Long Beach Convention Center on January 12th, 2017.   
The Gala Award ceremony acknowledges the hard work of the event planning and production organizations in the special event industry who have produced extraordinary events within the past year. Cynthia Lopell was among many other talented industry professionals such as Kristin Banta and Michael Cerbelli.
"We are so thrilled to have been chosen with such an impressive lineup of event professionals!"- Cynthia Lopell​
​This highly anticipated event is attended by many and a wonderful way for those in the industry to showcase their greatest events put on throughout the year. It is truly an honor to be considered and additionally to be the recipient of such a prestigious award.   
About CL22 Productions
Cynthia Lopell launched her own event design and production company in 2008, CL22 Designs and Productions Inc. With her degree in set design and construction, she worked in New York City for 10 years honing her skills in creating environments that take its guests out of their own world and on a journey into another world.
From 1993 through 2008, Cynthia worked as an Event Producer and Designer in Los Angeles with Along Came Mary Productions, a top company in the entertainment arena for over 30 years. Cynthia's logistical and communicative skills, creativity and expertise made her an extraordinary member of ACM's event production team and is now taking it a step further with her own design and production company.
Her superb coordination abilities have contributed to the success of the SAG Awards Post Party, HSN Live in Vegas, The Grammys, as well as many highly publicized premieres, charities, filmed events and large scale corporate functions such as Bourne Identity, Soul Plane, Weeds, Rug Rats and Sponge Bob Square Pants series; LA Lakers Youth Foundation, Macy's Passport, DIRECTV SSN Super Bowl Event to name a few.
Cynthia has a quality sense of overall concept, design, and event space flow. Her sharp eye for the fine details of décor including style, color, texture and patterns make her events unique, visually appealing and unforgettable. Her goal is to create a guest experience with no limits to the imagination.
CL22 Productions is a full service special events design and production company. Their mission is to design and produce unforgettable events by constantly striving for artistic excellence and providing clients with an incomparable guest experience; a flawless celebration designed to go beyond expectation.
In March 2016 CL22 Productions was the international Event Solutions SPOTLIGHT Award Winner for "Event Company of the Year" and has been announced as a Special Events Magazine 2017 Gala  Awards finalist in the category of Best Decor: $50,000-$99,999. CL22 is also WBE Certified, as a Women's Business Enterprise and have also obtained a WOSB Certification, as a Women Owned Small Business.
CL22's  vision is to uphold their high standards as a boutique event design and production company, that's small enough to provide individual service, but big enough in experience to deliver world class results; with an endless perseverance to offer the cutting edge in creative innovation, logistical strategies and effective solutions to every detail of the event.
ABOUT THE SPECIAL EVENT
The Special Event (TSE) is the world's largest tradeshow and conference for event professionals including: event planners, wedding planners, corporate event planners, caterers, event product and service providers, and event production companies. Each year, more than 5,000 professional attendees attend TSE's renowned education program, featuring more than 100 sessions in eight tracks, as well as multiple showcasing events and an exhibit hall floor filled with event products and services. Visit their website, TheSpecialEventShow.com. TSE's sister publication Special Events, in addition to producing the prestigious Gala Awards, provides industry information, and editorial support.
Source: www.cl22productions.com
Share:
---
Categories: Conventions, Trade Shows, Meetings and Events, Awards, Arts and Entertainment
Tags: Award, CL22 Productions, Gala Award, Long Beach Convention Center, Long Beach Wedding Event, The Special Event, The Wedding Event, TSE Gala, TSE Gala Awards
---