Angelique Sina Recognized as an Emerging Leader
Press Release
•
updated: May 1, 2017
Angelique Sina was honored with the Redefining Leadership Award at the Hispanic Alliance for Career Enhancement (HACE) in Chicago, IL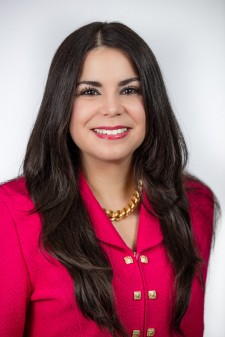 Chicago, IL, May 1, 2017 (Newswire.com) - The Hispanic Alliance for Career Enhancement (HACE) is proud to announce that Angelique Sina was honored with the Redefining Leadership Award at HACE's 35th annual National Leadership Summit & Gala.
Angelique is an alumna of the Mujeres de HACE Executive Leadership program. She was one of three honorees who were selected from HACE's 52,000 national members. The award recipients are individuals who redefine what it takes to be a leader, leveraging cultural identity to not only succeed in their own lives, but also to make a difference in the Latino community at large.
"I am very proud that HACE helps our members understand their individual identity as leaders by transforming them into more effective and transcendental professionals."

Patricia Mota, President of HACE
Angelique, a native of Aguadilla, Puerto Rico, now residing in Washington, DC, is a Global Relationship Manager at the International Finance Corporation, a member of the World Bank Group. In 2016, she was appointed by the Mayor of Washington, DC, Muriel Bowser, to serve as Commissioner for the Latino Community. As a passionate advocate for women's business success, Angelique co-founded "Amigas" and the Latina Impact Fund, which aims to develop the next generation of female leaders through angel investing. As co-founder and Executive Director of Friends of Puerto Rico, a national non-profit organization that invests in the orange economy on the island (supporting arts and education), she has excelled as a leader in the community.
Angelique is a contributor at the HuffPost, and serves on multiple national boards, including Mujeres de HACE Alumnae, the Board of Directors of the Friends of the Art Museum of the Americas, Latinas in Business, Viva Latino National Magazine and is an active member of the Johns Hopkins Women in Business Council. She holds a Bachelors in Business from the University of Puerto Rico in Aguadilla and a Master's degree from Johns Hopkins University.
About HACE:
Hispanic Alliance for Career Enhancement (HACE) is a national non-profit organization dedicated to the professional development and personal progress of Latino professionals and potential candidates. For over 35 years, HACE has served as a resource for Latinos in the workplace and a source of experience and knowledge for corporations seeking to access them.
For questions, please contact: Vivian Perez, v.perez.vap@gmail.com.
Source: HACE