Angara Launches Bespoke Ring Designing Experience 'Create With Angara'
Press Release
•
May 25, 2023
The international online jeweller's latest initiative allows customers to design coloured gemstone engagement and cocktail rings in just a few easy steps.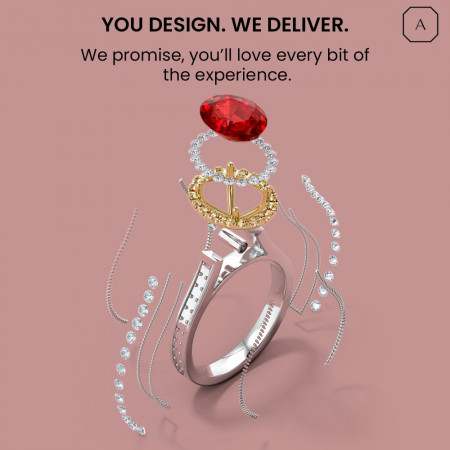 LONDON, May 25, 2023 (Newswire.com) - Leading international fine jeweller Angara announces the debut of Create With Angara, a medium through which customers can turn their dream ring designs into reality and tell their story through the brilliance of coloured gemstones.
The process of designing a ring begins with the centre stone. Customers can choose from the jeweller's extensive library of precious and semi-precious gemstones, hand-selected by GIA-certified gemologists. They can also view the actual stones in 360° before picking the one they'd like on their ring.
Following this, customers can choose every aspect of their ring design till their dream piece eventually comes to life. This includes the head and mount type, the finishing, side stones and metal. To make it even more special, customers can add a signature stone or an engraving to their ring.
Right from the time of its inception, Angara has provided customisation options for jewellery. But Create With Angara is a more exclusive experience with greater collaboration between the customer and Angara's master artisans, who work hand-in-hand to create masterpieces.
To sum it up, Create With Angara is a journey that inspires customers to design jewellery that becomes an extension of who they are. From heartfelt engagement rings in classic as well as contemporary styles to statement cocktail rings that speak volumes of one's individuality, the possibilities are endless.
For more information about Angara, Create With Angara and all the upcoming announcements, please visit https://www.angara.com/uk-en and follow @angarajewelleryuk on social media.
About Angara
Founded in 2005 by husband-wife duo Ankur and Aditi Daga, Angara is an online DTC fine jeweller offering stunning designs dressed with coloured gemstones, diamonds and pearls. All Angara pieces are handcrafted and made to order. A vertically integrated company, with deep familial roots spanning hundreds of years in the gemstone business, Angara handles each step of the process in-house, from stone-cutting, designing, manufacturing, quality control and fulfilment. Angara is headquartered in Los Angeles, California, with additional offices in India, Thailand, Ireland, Australia and Canada. The brand also currently holds licensing deals with Harvard University and Natori. For more information, visit https://www.angara.com/uk-en and follow @angarajewelleryuk on social media.
Source: Angara Inc.