Andrew Klimenko & Lending Capital Group Announcement: One-Day Commitment
Press Release
•
Apr 12, 2023
The One Day Commitment will help buyers secure the home they want in a competitive market.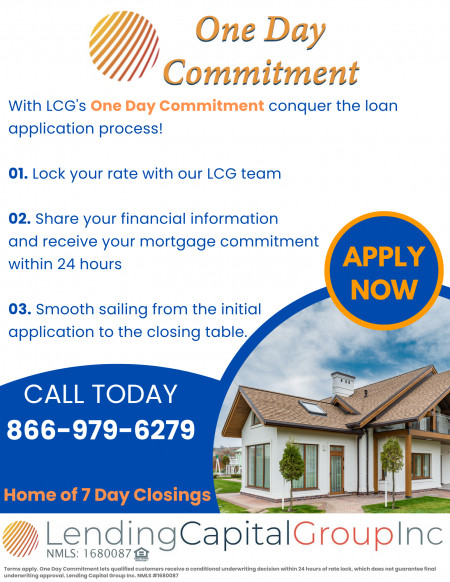 PHILADELPHIA, April 12, 2023 (Newswire.com) - With the rise in home prices slowing and interest rates dropping, now is a good time for new home buyers to enter the market. This is not likely to change, as forecasts indicate interest rates will continue to drop into 2024.
Since 2017, Lending Capital Group (LCG) has been helping people buy and refinance their homes
Mortgage rates continue to drop in 2023, with lower rates expected in 2024.
LCG's 7-Day Closing program takes the hassle out of home buying.
The One Day Commitment will help buyers secure the home they want in a competitive market.
While interest rates for home loans are going down, rent prices, by and large, are not. While the steep increase in prices that we've seen over the past two years is likely to slow, rent increases overall are not likely to stop, especially if inflation continues to rise. This means that more people are likely to start entering the buying market, looking to reduce living costs.
"We're edging deeper towards a recession, but I don't see that slowing the housing market, especially for first-time buyers. Instead, people looking to spend less on a home will look to buying a home, both to build personal equity and save money versus rental costs." - Andrew Klimenko, Sr. Mortgage Lender, Lending Capital Group.
With buying competition expected to rise in the coming year, it's more important than ever that home buyers have the leverage they need to buy the home they want. Since 2017, Lending Capital Group has been dedicated to helping home buyers make it through the closing process with their 7-Day Closing program. Now, they're giving home buyers an even bigger advantage.
With the One Day Commitment, home buyers can lock in their rate and receive a commitment within 24 hours. This means that they can go into an open house, home tour, or talk with a realtor ready to buy, making it more likely they'll get the house they want.
Contact Lending Capital Group to apply today:
Lending Capital Group
260 Knowles Avenue Unit 330,
Southampton, PA 18966
https://lcgloans.com
NMLS: 1680087
Source: Lending Capital Group