Andrew De Niese's Fundraiser Enables Local Hospital to Open Orchard Garden in Germany
Press Release
-
updated: Jun 28, 2017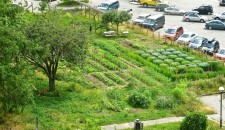 Frankfurt, Germany, June 28, 2017 (Newswire.com) - A local children's hospital in Frankfurt, Germany, has recently celebrated the official opening of its new orchard garden. This was made possible by fundraisers organized by Andrew De Niese, father of a young girl who had been nursed back to life in the said children's hospital. A special ceremony marked the opening of the garden, with Andrew's daughter cutting the ribbon.
Besides Andrew and his family, a number of other special guests and hospital staff attended the event. All had worked together to build the garden by determining patient needs and requests, and creating something that all would come to love and enjoy. Andrew, who supported his daughter who was still weak but getting better, declared the orchard garden officially open after she cut the ribbon.
The event is a celebration of two years of fundraising. When Andrew's daughter first became ill, he instantly saw how important the role of the local children's hospital would be for him and his daughter. During those times when his daughter was the sickest, he noticed that what she missed the most was an opportunity to be outside, even if it was just to sit and relax. Hence, it was because he had a vision and he wanted to do something that would keep his mind off his daughter's plight for a little while, he started his fundraiser. Before long, hundreds of people from the local area were involved, as well as businesses and community groups. He had estimated that the project would require $150,000 to complete, but he was able to gather a total of $200,000.
The orchard garden in Frankfurt, Germany, has been designed to enable young patients to relax in a tranquil and beautiful area. It can also be used by staff and visitors. The location of the garden was previously an unattractive courtyard that wasn't used at all. It just separated the children's hospital from the pathology department of the larger hospital.
Because the donations exceeded Andrew's expectations, the garden was also fitted in such a way that it serves as a therapeutic courtyard garden that links to the hospital lake through a sensory garden walkway. The lake, meanwhile, has been provided with a new wooden deck that is completely accessible even for the most disabled patients. Here, people can retreat into themselves for a while, for some peaceful contemplation of the water.
Around $50,000 of the total sum were donated by local people, who did so in memory of other patients. Andrew De Niese says: "Too many children, unfortunately, will never be able to enjoy this garden. My daughter is one of the lucky ones, and we have the staff at the hospital to thank for that. The garden is our token of appreciation, and we will surely to come enjoy it regularly, even in health."
Andrew's daughter was supported by the Director of Nursing and Midwifery and the Consultant Hematologist of the hospital. Additionally, the city mayor and his wife were in attendance, as were numerous local dignitaries. Counselors and therapists at the hospital have also welcomed the construction of the garden, believing that it will assist in the recovery of patients while they are in hospital.
Andrew De Niese says: "The environment surrounding the patients is such a key part of their therapy. Every time she was able to be out in nature, you could see her pick up and feel better. That positive impact is fantastic, particularly since she was going through such difficult and frightening time of her life. I am so happy that patients will be able to have a tranquil, peaceful, but also fun place to go and reconnect with the world around them during their treatment."
Work on the orchard garden project began in June 2016 and it was finally completed several weeks ago.
Source: Andrew De Niese
---
Categories: Gardens and Landscape, Hospitality, Active and Healthy Living
Tags: Andrew De Niese, Andrew De Niese Arrest, Andrew De Niese Beverly Hills, Andrew De Niese Los Angeles
---