Analogg Launches the Ultimate Wireless QMK/VIA Mechanical Keyboard
Press Release
•
updated: Jan 17, 2023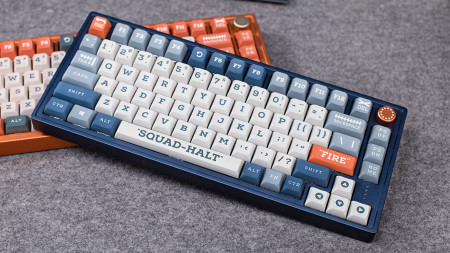 BURLINGAME, Calif., January 17, 2023 (Newswire.com) - Today, keyboard innovators Analogg, announced the launch of a revolutionary fully customizable mechanical keyboard. With a CNC machined aluminum body, gasket mount design, QMK/VIA versatility and hot-swappable switches, Analogg delivers an advanced typing experience for Mac, Windows, IOS, Android & Linux that takes productivity to a new level with endless possibilities for custom keymapping. Analogg is available now on Kickstarter: https://www.kickstarter.com/projects/analogg/analogg-aluminum-body-wireless-qmkandvia-mechanical-keyboard
Analogg is a sleek, solid and fully customizable wireless keyboard that is built to last. Precision CNC machined from durable 6063 aluminum, the body has a stunning polished, anodized and sandblasted finish that requires twenty-five separate and exacting manufacturing processes to achieve. It is powered by a reliable Arm Cortex-M3 32-bit STM32F103 MCU with 1M Flash memory that provides more power for users and more flexibility for developers. The keyboard features a hot-swappable design so any of Analogg's switches can be replaced with virtually all 3-pin and 5-pin MX style mechanical switches on the market including Cherry, Gateron, Kailh, Panda, and more, without soldering.
For wide compatibility, Analogg offers a Windows layout while still being compatible with Mac and including keycaps for both systems for easy switching between either operating system. Analogg connects seamlessly with up to 8 devices via stable Bluetooth 5.1 for uninterrupted multitasking across laptop, phone, and tablet. Quick switching between devices is possible to efficiently work with cross platform compatibility with macOS, Windows, Linux, IOS and Android.
"Like most of you, we spend hours every day at our keyboards so we know how important it is to use a high quality device. We created the Analogg QMK/VIA Keyboard for those that prefer the superior feel and sound of a true mechanical keyboard. Our goal was to design the ultimate mechanical keyboard with unparalleled customization. To do so, we added QMK/VIA capabilities for endless possibilities for fluid workflows. The unique VIA feature allows users to seamlessly remap any key on the keyboard, and create shortcuts and macros to fully optimize the keyboard for any application or preference. Combined with a comfortable gasket mount design and hot-swappable switches, users can create the perfect keyboard just as they choose." - Analogg Design Director Burgess Zhang
The real power of this keyboard lies in its QMK/VIA capability which allows users to create custom keymaps in seconds using VIA software to import JSON files to remap any key, and create macro commands, shortcuts, or combination keys as needed for any operating system making Analogg the most versatile keyboard for personalization.
Analogg, the ultimate CNC aluminum wireless QMK/VIA mechanical keyboard is the most advanced and highly customizable keyboard available today. With endless possibilities for customization that boost productivity, it's the perfect keyboard for users that demand the ultimate typing experience. Analogg is available now with special pricing and incentives for early adopters. To learn more visit the Kickstarter campaign here: https://www.kickstarter.com/projects/analogg/analogg-aluminum-body-wireless-qmkandvia-mechanical-keyboard
Source: Analogg
Tags