An Important Display Terminal of a Smart City -- Small Spacing LED Display -- HTJ
Press Release
-
updated: Apr 25, 2019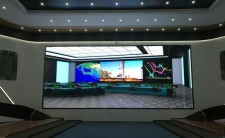 SHENZHEN, China, April 25, 2019 (Newswire.com) - With the continuous development of human society, there will be more and more people in the future cities .The problem of "urban illness" is becoming more and more serious in some areas.  In order to solve the problem of urban development and achieve sustainable urban development, the construction of smart cities has become an irreversible historical trend of urban development in modern times. Shenzhen HTJ Technology Co., Ltd. is a professional LED display manufacturer with many years of experience in  LED display. 
Firstly, the construction of smart cities must focus on the application of information technology. Smart city can be regarded as the advanced stage of urban information, which is bound to involve the innovative application of information technology.  However, it takes the Internet of things, cloud computing, mobile Internet, big data and other emerging hot technologies as the core and representative.
Secondly, smart cities are complex, interactive systems. In this system, information technology and other resource elements work together to optimize the allocation and promote  operation of the city more intelligently.
Thirdly, smart cities are emerging models of urban development. The service object of smart city is oriented towards the urban subject, Governments, businesses and individuals. It leads to the change, improvement and perfection of urban production and lifestyle and the ultimate manifestation is owning better urban life for human beings.
The construction of intelligent security monitoring system is an important part of the construction of intelligent city. It makes full use of information technology, improves and deepens the "safe city" project. It deepens the intelligent construction of the social security monitoring dynamic video system and the mining and utilization of data, integrates the police monitoring and social monitoring resources and establishes the grassroots social security comprehensive management information platform.
But the small pitch LED display promotes the picture to be clearer, the seamless splicing technique makes super-large monitor screen come true, which  fulfills the security supervisory control precisely.
With the continuous promotion and development of smart city construction, LED small spacing which is regarded as a kind of display terminal is ubiquitous in intelligent transportation, intelligent security, intelligent education, auditorium, conference room, banquet, front office, exhibition and demonstration and other fields.    The continuous development of small-space LED display technology will further consolidate its display position in the construction of smart cities.
Shenzhen HTJ technology co., LTD. is an china LED display manufacturer from Shenzhen, whose products are exported to more than 200 countries .The main production of small pitch LED display model is LED product models of P2.5, P2.0, P1.8, P1.5, P1.25, P1.0, P0.9, etc ,they are mainly characterized by:
1.It has a single box weight of only 6kg, the thickness of only 60mm ultra-thin features
2.CNC fine scientific digital processing, error less than 0.1mm, truly seamless splicing
3.Brightness adjustable range of 800-1200 - CD, 160 °, 150 ° angle of view, much more clearly images can be seen from the left and right sides of the screen and the up and down direction.
4.Extremely high color consistency, no local distortion, lack of brightness and other phenomena
5.16bit gray, high contrast, high refresh rate, fine quality, smooth, high fidelity
6.At the same time, it also has reception card, wiring board and power supply that can be maintained in advance. It reduces the difficulty of product maintenance, solves the worries of customers and the advantages of easy assembly of 1080P, 4K HD large screen and 16:9 golden ratio of the box.
In a word, the essence of smart city lies in the high integration of information and urbanization, which is the manifestation of urban information to a higher stage under the environment of new generation information technology development and knowledge society innovation 2.0.
Smart city construction has been emerging in some major cities around the world recently.
However, the current intelligent traffic construction has higher and higher requirements for digitization. The purpose of traffic guidance is achieved through data collection and processing, this requires a lot of outdoor LED screens placed in traffic and busy sections,  providing people with the latest traffic information at the first time.
Due to seamless splicing, 4K high refresh, fine and smooth picture quality, high fidelity and other product features, more and more small pitch LED screens are used as important information board and display terminals of smart cities.
About HTJ LED DISPLAY
Shenzhen HTJ Technology Co., LTD. is company that manufactures Transparent LED displays, LED creative screens, Dance Floor LED Displays, LED ball displays, LED video displays, LED curved screens, stage LED displays, cylinder LED displays, street light pole advertising, LED Display Panels, other custom LED displays and other high-definition LED full-color screens. It is a professional China LED display Factory integrating R&D, production, sales and service. The company is located near Shenzhen Baoan Airport, with a total area of 15,000 square meters, a production workshop of 10,000 square meters and an office area of 2,000 square meters. With a large anti-static assembly line and SMD automatic surface mount equipment, wave soldering and other technical equipment, the company relies on advanced management mode, strong technical research and development capabilities and abundant raw material resources, and has carefully built a professional platform for modern enterprises.
Contact Info
Website: https://www.htj-led.com
Email: manager@htj-led.com  
Phone:13530295008
Source: HTJ
Share:
---
Categories: Advertising
Tags: Dance Floor LED Display, HTJ, LED Display Manufacturers, LED Display Panel, Small Pitch LED Display, Stage LED Screen
---
Related Files
Additional Links