An All-Out Offensive Against Drug Abuse in Kenya
Press Release
•
updated: Jan 16, 2018
Bringing the truth about drugs to the youth of the country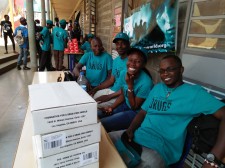 Kisumu, Kenya, January 16, 2018 (Newswire.com) - As in any country that acts as a transit point for the trafficking of heroin, the youth of Kenya are at risk. The Giselle Foundation is committed to reaching young people before the dealers do. The group's mission is "to provide life-changing interventions aimed at improving wellness of disadvantaged persons through promotion of better education, health and empowerment." To accomplish this, they partner with the Foundation for a Drug-Free World for their drug prevention activities.
Theirs is a truly grassroots movement, bringing drug education to youth throughout the country by building a network of volunteers and using the Drug-Free World's Truth About Drugs initiative.
According to a survey conducted by National Authority for the Campaign Against Alcohol and Drug Abuse (NACADA) of Kenya, more than 72 percent of students say it is possible to use drugs at school without the teachers' knowledge. More than 70 percent of students say young people are likely to initiate alcohol and drug abuse in school. Another NACADA survey found more than 81 percent of users were introduced to drugs by friends.
To reach young people when they are most vulnerable, week in and week out, the Giselle Foundation hands out copies of Truth About Drugs booklets, delivers drug education workshops to students, trains teachers to use the materials, and brings more people on board to join them in the movement to create a drug-free Kenya.
The Church of Scientology and its members support the Foundation for a Drug-Free World whose Truth About Drugs campaign is one of the world's largest nongovernmental drug education and prevention initiatives. Thanks to this support, the Foundation provides—free of charge—drug education booklets, videos and educator guides to teachers, mentors and civic and community leaders.
According to the United Nations Office on Drug Abuse and Illicit Trafficking, "Every dollar spent on prevention can save governments up to ten dollars in later costs."
Source: ScientologyNews.org
Related Media