An All Natural, Drug Free Product Launch for Pain Relief and Comfort From One Small Grain
All Natural, Therapeutic Hot or Cold Corn Packs to Help you feel better all Summer Long from The Jack's Meow.
Press Release
-
May 12, 2016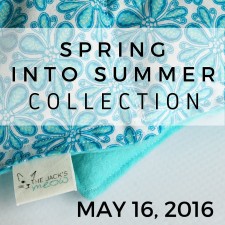 Spokane Valley, WA., May 12, 2016 (Newswire.com) - ​​The Jack's Meow is introducing a new product line for the Summer which will launch on May 16, 2016.
The "Spring into Summer Collection" features new styles and designs of the popular microwaveable or straight from your freezer Corn Pack, that will compliment the original products in the store.  These packs bring comfort and pain relief, time and time again since they are conveniently reusable. They are so easy to use!  The consumer does not have to plug them in and deal with annoying cords. Don't worry about falling asleep with them either, they are safe to use. They are portable, pet friendly, child friendly and grandparent friendly.  That's why Mom's love them, they are for the whole family.
The "Spring into Summer Collection" will include, "The Epic Pack" which is a full coverage size for large target areas, The "All Better Bag" in delightful patterns for children to grab out of the freezer for those boo boos and new Gifts Sets that will Wow any recipient, just to name a few.
All products in this collection, have a summery look, are made out of 100% soft and cozy cotton and filled generously with whole corn filler.  They are expected to sell out quickly.
Dana Henderson, the founder of The Jack's Meow has personally experienced pain from Migraines and recently Fibromyalgia.  For years she searched for pain relief for herself and family members.  When she made her first corn pack, she knew it was a game changer and wanted to share it with everyone.  Her original packs were designed in a way that brought her relief from migraines, better that those she had used in the past.  Since then, fragrant herbs have been added to some packs such as the "Sleepy Time", "Migraine Relief" and "Stress Relief.
Dana expressed, "The Corn Packs have helped me so much in my daily life, that I feel that every person in every home should have their own personal bag. That's my goal. They are that good!"
Contact Info: Dana Henderson  email: TheJacksMeow@comcast.net  Phone: (509)599-2817
Website https://thejacksmeow.etsy.com
Dana Henderson opened The Jack's Meow on January 1, 2015.   She enjoys running her shop from her home while caring for her Grandchildren. Helping others has been her focus and is what drives her to create new products that will bring some relief from chronic pain, anxiety, cold conditions and provide a means for relaxation.
The Jack's Meow designs stylish, all natural, therapeutic Corn Packs for Pain Relief, Comfort and Relaxation.  Because we want you and those you love to feel better.
Source: The Jack's Meow
Share:
---
Categories: Retail, General Interest, Healthcare, Family
Tags: all natural, back pain, cold pack, comfort, Corn bags, drug free, heated corn bag, heating pad, hot cold pack, migraines, pain relief, relaxation
---