Ampronix Extending Its Medical Grade Printer Line With Advanced Sony Printing Technology
Press Release
•
updated: Sep 28, 2018
Sony Medical continues to develop innovative technology directly suited for Health Care facilities World Wide.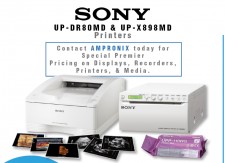 IRVINE, Calif., September 28, 2018 (Newswire.com) - As the Master Distributor of Sony Medical products, Ampronix continues to meet the unique needs of healthcare professionals by providing high-quality printers that produce rapid delivery of prints in black and white, or color.
The Sony UP-X898MD is an A6 medical grade black and white digital compact printer. It accepts PC-friendly digital USB signal inputs in addition to analog video. The hybrid printer is designed to be integrated into a wide range of compatible medical imaging environments such as digital ultrasound systems, mobile C-arms, or cardiac catheterization laboratories. The high-quality thermal print engine can print still images captured by today's advanced systems. It also offers Sony's IMAGEPORT interface, which allows users to store printed images to a connected USB flash drive to transfer to a laptop.
Sony has created the first wireless printing solution for healthcare facilities and it is impressive

Michael Thomas, Director of Marketing
The Sony UP-DR80MD/WU is the world's smallest A4 dye sublimation digital video color printer. It produces photo quality prints, which include laminating technology. Each print is coated with a protective layer that's resistant to heat, light, humidity, water, and fingerprints. The system includes two units, a transmitter, and a receiver. The transmitter plugs into the imaging modality and the receiver is connected to the printer. Multiple transmitter/receiver pairs in the same room allow for simultaneous use of three user-selectable radio channels. All inclusive, there is no need for additional software. The device auto links to the closest receiver emitting the strongest signal without the need for any local Wi-Fi. If relocated, the printer will automatically reconnect to the modality.
Both printers are compatible with the UPA-WU10 wireless print system, which allows a cable-free connection, replacing the conventionally wired USB connection between printers and imaging modality. In clinical settings, such as operating rooms, equipment is constantly being transferred between locations with limited space for storage. With a 10-meter signal range, the transmitter alone can be inserted into modalities while the printer is stationed elsewhere, freeing up additional space on medical carts.
Ampronix currently has Premier Pricing available on all products mentioned in the release.
Contact Ampronix:
Email: info@ampronix.com
International Sales: +1 949-273-8000
Domestic Sales: 1800-400-7972 for US and Canada
Follow Us:
Facebook, Twitter, Linked In
About Ampronix
Ampronix is a renowned authorized master distributor of the medical industry's top brands as well as a world-class manufacturer of innovative technology. Since 1982, Ampronix has been dedicated to meeting the growing needs of the medical community with its extensive product knowledge, outstanding service and state-of-the-art repair facility. Ampronix prides itself on its ability to offer tailored, one-stop solutions at a faster and more cost-effective rate than other manufacturers. Ampronix is ISO 13485:2003, and ANSI/ESD S20.20-2014 certified.
Source: Ampronix
Related Media
Tags
Additional Links