AmplifyReach Announces ChatBot for Freshdesk Users to Scale Customer Engagement 24/7 to Drive Sales, Lead Generation, Support and Overall Happiness
Press Release
•
updated: Jun 29, 2017
AmplifyReach, a leading augmented intelligence platform with live Chat and AI-powered Chatbot, announced today a partnership with Freshdesk.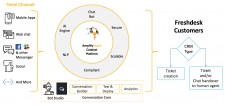 Pune, India, June 29, 2017 (Newswire.com) - AmplifyReach integrated solution for live chat and chatbot, brings Freshdesk customers capability to build & deploy human-like conversational chatbot (no coding required) to provide 24/7 services across Web, Mobile, Social, Messenger, email channels.
"AmplifyReach's seamless integration with Freshdesk allows businesses to keep track of all conversations as Freshdesk tickets. Freshdesk customers can now build chatbots required for their various business workflows and provide 24/7 customer engagement, without any code."
"With FreshDesk and AmplifyReach integration, Customers will get the ready benefits of integrated live chat support, Chatbot with AI, and world leading Customer support tools. Together we help scale and automate business workflows to save cost and support end customer 24/7 across channels."

Ninad Shah, EVP - Chatbots, AmplifyReach
Ganesh Ram Natarajan, Sr. Director - Product Management, Freshdesk
Every business organization is always on a lookout to better customer outreach of their products and services, make better sales, optimize cost, generate higher throughput with existing resources and enhancing customer experience. Increasing sales & customer service are directly proportional to increased headcount.
AmplifyReach Catalyst Platform simplifies the problem of business scale by automating different business processes with easy-to-consume conversational interface with human-like dialogue and intent switching capability. Customers can build chatbot to handle various services for internal and external customers like buy, renew, support queries, product discovery, concierge services, drive-focused marketing with loyalty & rewards. Chatbot can be configured to be pro-active or on-demand to connect with the customer. Based on the channel, historical interaction information can be retained to provide better engagement.
AmplifyReach Catalyst Platform seamlessly integrates with Freshdesk by automatically creating Freshdesk tickets for customer engagement with bots. The Freshdesk ticket status reflects the resolution of the conversation.
AmplifyReach provides rich agent terminal for human support teams to handle complex queries and questions. The platform supports team management capabilities, compliance, and enterprise security expectations. Bot to human agent transfer for complex or specialized services is seamless. Auto-handover or single clicking on "Start Chat" lets the FreshDesk agent connect and communicate with the customer directly. Agent terminal feature also includes deep analytics and reporting, remote assistance by screen share, free agent assignment to optimize performance, historical data archive and so on.
About AmplifyReach
AmplifyReach is focused on real world applications of Artificial Intelligence (AI). Our AI algorithms convert human communication into actionable context, intent & interest.
AmplifyReach Catalyst platform enables businesses to separate scalability from headcount, take smarter & informed decisions.
Media Contact:
Ninad Shah
Email: social@amplifyreach.com
Source: AmplifyReach
Related Media
Tags