AMOURDESEA Jewelry Releases Its First Environmentally Conscious Men's & Women's Collection
Press Release
•
Jun 9, 2022
A collection made from the sea that fits every nature & ocean lover's lifestyle and helps reduce impacts on the environment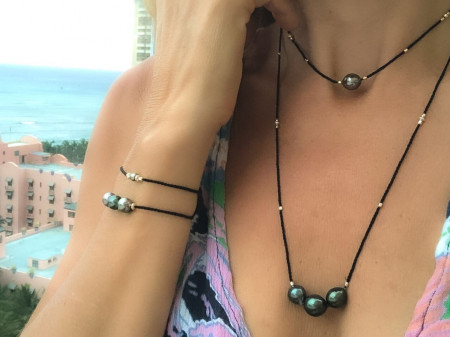 NEWPORT BEACH, Calif., June 9, 2022 (Newswire.com) - AMOURDESEA creator Elodie, known for her delicate, feminine and dreamy cultured pearl jewelry, announced today the most impactful of her creative journey with the release of the Clean Sea Collection. A collection 100% made from the ocean, including exotic treasures and new elements made from recycled fishing nets. The line is available in a palette of warm tropical colors mixed with stunning Tahitian pearls from Tahiti. This delivers timeless and captivating designs, all with fine quality and full of ocean energies.
After years of research and testing for quality recycled materials that help the environment but still look fashionable and alluring, AMOURDESEA Clean Sea Collection is currently being released. The Clean Sea Collection is available nationwide and exclusively sold online at Amourdesea.com.
"It's beyond excitement that, four years later, a reputable manufacturer that specializes in weaving threads in cords for the French couture world finally helped me create what I've been dreaming of," says Elodie, founder and designer of AMOURDESEA. "The process of transforming fishing nets collected from the ocean into gracefully weaved cord without the use of chemicals is astonishing. It not only protects marine life from perishing in these abandoned nets, but also contributes to saving the planet. As an ocean lover, finding this manufacturer was a gift from the sea."
The Clean Sea collection features men's and women's styles. Each design includes sea cultured pearls, is water resistant and versatile.
Makia Necklace. The energy flows where your attention goes.
Shaka Bracelet. For ocean lovers.
Koa Necklace and Bracelet for the great warrior.
Vairea Necklace. Joyful Water.
Alalahe Necklace. Hawaiian Goddess of Love.
Underwater Bracelet. Peaceful, Majestic, Divine, Eternal, Calming.
Hinarapa Bracelet. Goddess of the Lagoons.
Manina Bracelet. Calm Ocean.
Vahine Anklet. Tahitian Goddess.
The price ranges from $59 to $399.
It's a wonderful feeling to reduce impacts on nature. Now, people can love the sea and adorn their dreams with jewels that make them feel good and look good. This line is 100% committed to avoiding waste. Every ocean treasure comes in an eco-friendly jewelry box. Customers can buy responsibly and wear their jewelry without guilt of waste. For more information, please write to info@amourdesea.com.
About AMOURDESEA Jewelry. Founded in 2016 by Elodie, ocean lover, AMOURDESEA Jewelry shares her ocean experiences with mesmerizing treasures from the Pacific islands. Her dedication is to adorn everyone with their ocean dreams while enjoying the benefits of ocean energies and looking feminine. After introducing recycled precious metals such as argentium in 2020, AMOURDESEA is committed to become part of the best environmentally conscious jewelry brands. Instagram: @amourdesea. https://www.amourdesea.com/
Source: AMOURDESEA Jewelry