Amid Build-Up for Chatbots Life's 2nd Annual Chatbot Conference, Agency Announces New Plug-and-Play Chatbot Solution for E-Commerce
Press Release
-
updated: Apr 12, 2018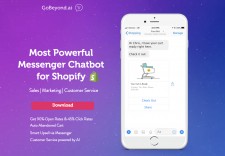 SAN FRANCISCO, April 12, 2018 (Newswire.com) - Chatbots Life, a full-service chatbot design, development and marketing agency that works to leverage the power of artificially intelligent conversational bots in the world of consumerism today, this week announced they are releasing a new plug-and-play chatbot solution for Shopify stores.
Synced to the GoBeyond Shopify app, the solution will automatically create a chatbot for any specific Shopify store on Chatfuel. Store owners can then take the bot, publish it and increase their income by seven to 25 percent, as recent chatbot studies have reported.
"Chatbots are becoming an increasingly integral part of marketing and customer service support, providing infinite help to business owners through their programmed responses and learning capabilities," said Stefan Kojouharov, founder and CEO of Chatbots Life. "Our Shopify bot will automatically recover abandoned carts, upsell customers and answer shipping-related questions. Essentially, this is a customer service chatbot that supremely leverages Facebook Messenger Marketing."
Additionally, this week, Chatbots Life announced they will be hosting their 2nd Annual Chatbot Conference this September, featuring the most renowned speakers in the chatbot and AI space today. Notable topics covered will include UX and product design, discovery, monetization and how enterprises and brands are achieving success with their bots today.
"We're very excited to be hosting our second chatbot conference, bringing the most inventive and innovative minds in the bot space from around the world together for one passionate event," said Kojouharov. "As a community, we're stronger together than we are apart, which is why we work hard to host the best chatbot-based conference in the world today. Come join us this September."
Chatbots Life updates their platform regularly with industry news, updates and tips.
For more information on their e-commerce chatbot solutions, visit http://www.gobeyond.ai.
Source: Chatbots Life
---
Categories: High Technology, e-Commerce
Tags: abandoned cart, bots, chatbot conference, chatbots, customer service chatbot, ecommerce chatbot, facebook messenger marketing, messenger marketing, retail chatbot, shopify abandoned cart, shopify chatbot, shopify shipping
---
Related Files
Additional Links