Ameritech Financial: You May Be Able to Repay Your Student Loans With Part-Time Income
Press Release
-
updated: Jul 4, 2018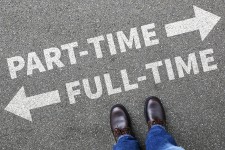 ROHNERT PARK, Calif., July 4, 2018 (Newswire.com) - Part-time income may not feel like it is enough to pay for student loans as well as living expenses. It may even feel impossible to make payments on the Standard Repayment plan without a job with full-time status. Ameritech Financial, a document preparation company, may be able to help borrowers to remain in their part-time occupation while still being able to pay for their student loans.
"Being stuck with low income can make you feel the weight of every financial decision," said Tom Knickerbocker, Executive Vice President of Ameritech Financial. "When you are stuck with a part-time income, you may feel that you need to completely change your life to have a chance at repaying your student loans, but that isn't the case."
With the standard amount of student loan debt taken to get into college set at about $26,700, as of May 2018, a borrower may be required to pay around $300 per month to keep up with their payments on the Standard Repayment plan. This can stop a borrower from being able to afford decent food or shelter after tax.
Being stuck with low income can make you feel the weight of every financial decision.
While the Standard Repayment plan for student loans may not seem to be compatible with a part-time life, Ameritech Financial suggests that a borrower may be able to pay off their loans by switching from the Standard Repayment plan to an income-driven repayment plan (IDR). If approved for an IDR, a borrower will only need to pay a part of their discretionary income each month with the possibility of gaining forgiveness on their student loans in 20 to 25 years if they stay enrolled in the IDR program. Through the use of an IDR, a borrower may be able to pursue the career, knowledge, and skills that their part-time job can give them while being able to afford living expenses and loan payments.
"There are a variety of federal repayment plans available for borrowers who have federal student loans," said Knickerbocker. "At Ameritech Financial, we help borrowers understand and apply for IDRs, which we believe can be the most beneficial for struggling borrowers."
About Ameritech Financial
Ameritech Financial is a private company located in Rohnert Park, California. Ameritech Financial has already helped thousands of consumers with financial analysis and student loan document preparation to apply for federal student loan repayment programs offered through the Department of Education.
Each Ameritech Financial telephone representative has received the Certified Student Loan Professional certification through the International Association of Professional Debt Arbitrators (IAPDA).
Ameritech Financial prides itself on its exceptional Customer Service.
Contact
To learn more about Ameritech Financial, please contact:
Ameritech Financial
5789 State Farm Drive #265
Rohnert Park, CA 94928
1-800-792-8621
media@ameritechfinancial.com
Source: Ameritech Financial
---
Categories: Financing and Student Loans, Financial News
Tags: federal student loans, income-driven repayment, part-time
---