Ameritech Financial: What to Expect When You're Expecting Student Debt
Press Release
•
updated: Sep 30, 2018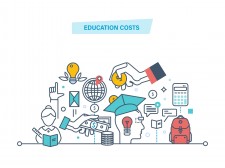 ROHNERT PARK, Calif., September 30, 2018 (Newswire.com) - ​Undergraduate students should think twice before they change their course load to part-time. If students switch to less than six credits, they will have to start repaying federal loans. Additionally, the Department of Education advises students to maintain at least 2.0 GPA to stay eligible for certain aid programs. Pell Grants are $6,095 for 2018-2019 at the largest grant amount, but if students switch to part-time, their awards would go down to as low as half of the maximum grant amount. The majority of Pell Grants do not need to be repaid unless certain circumstances arise. Ameritech Financial is a document preparation company that helps borrowers apply for income-driven repayment plans (IDRs) that could relieve financial stress from federal student loans.
The U.S. government has a few guidelines if students have Pell Grants and want to maintain them. They recommend that students continue in an undergraduate study at an American institution. Students have 12 semesters to use up the entirety of their grant. It could be helpful to use a College Cost Calculator. Yet, they should be careful when looking at generalizations. For example, one source says college will be $32,410 per semester at a four-year private university. In actuality, New York University costs $68,128, including room, board and tuition. However, if they do end up with more debt than they estimated, there are many ways to repay their student loans. They could look into income-driven repayment plans or pursue PSLF by choosing a career in public service. Ameritech Financial can be a great resource for borrowers who aren't sure of the best way to manage their federal student loan debt.
I still think it is possible to tell students to go after their dreams. There are many options for them to consider.

Tom Knickerbocker, Executive Vice President of Ameritech Financial
"There are many ways to approach student loan repayment," said Tom Knickerbocker, executive vice president of Ameritech Financial. "Borrowers who feel weighed down by student loans may consider applying for income-driven repayment plans."
Students who are applying to college should also review information on financial aid. While NYU can cost close to $70,000, its financial aid website offers up to $37,000 in scholarship/grant funds. It's not always easy to factor in every pro and con for choosing an undergraduate degree program. For some, the cost is very important and they want as little student debt as possible. Others want the best programs, even if the costs are significantly higher. Studies argue that students should focus on engineering degrees if they want high incomes. It all depends on the students' values, what their families can afford and how much aid they can receive.
"I still think it is possible to tell students to go after their dreams. There are many options for them to consider. Student loan debt shouldn't hold them back from studying a subject they truly love," Knickerbocker added.
About Ameritech Financial
Ameritech Financial is a private company located in Rohnert Park, California. Ameritech Financial has already helped thousands of consumers with financial analysis and student loan document preparation to apply for federal student loan repayment programs offered through the Department of Education.
Each Ameritech Financial telephone representative has received the Certified Student Loan Professional certification through the International Association of Professional Debt Arbitrators (IAPDA).
Ameritech Financial prides itself on its exceptional customer service.
Contact
To learn more about Ameritech Financial, please contact:
Ameritech Financial
5789 State Farm Drive #265
Rohnert Park, CA 94928
1-800-792-8621
media@ameritechfinancial.com
Source: Ameritech Financial
Related Media
Additional Links