Ameritech Financial Warns Student Loan Borrowers of Government Imposter Scams and Encourages Individuals to Heed FTC Advice for Spotting Them
Press Release
-
updated: Aug 14, 2018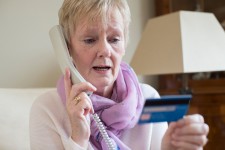 ROHNERT PARK, Calif., August 14, 2018 (Newswire.com) - The phone rings and the person on the other line says that they're from the IRS and are calling to investigate back taxes owed. Or maybe they say they're from a different agency and that they have a warrant for arrest from loan debt. Receiving a call from a person claiming to be a government official can be nerve-wracking and confusing. Scammers often pretend to be government officials to get unsuspecting people to give them money, threatening them with arrests and lawsuits. Ameritech Financial, a document preparation company, warns student loan borrowers to try to verify the identity of a caller claiming to be a government official and reminds them to stay updated on the Federal Trade Commission (FTC) investigations of these scams.
The FTC warns that these scammers are trying their hardest to make these calls seem legitimate. They may give out badge numbers or know the last four digits of the social security number of the person they're trying to scam. They also may spoof the number they're calling from, making it look like they're calling from Washington, D.C. The scammers also send out official-looking letters and emails. They may use threats to try to get financial information or they may make it seem like the person won a lottery or sweepstakes. Once the person tries to collect their winnings, the scammer will tell them they must pay taxes or fees in order to receive their prize.
Individuals who get targeted by a scammer claiming that a student loan is delinquent, for example, may see authenticity in the demand for payment if they actually carry a loan balance. It's important to be diligent and check all the facts before handing out payment information.
So, what to do when receiving one of these scammer's communications? The FTC recommends avoiding transferring any money and refusing to give out any financial or personal information. Don't trust a name or number that shows up on caller ID. The FTC also recommends consumers add their phone number to the National Do Not Call Registry and make a formal complaint on the FTC website. For people with loan debt who may be behind on payments, it's important to understand that there are rights in place for debtors like themselves. Threats and harassment aren't legal under the Fair Debt Collection Practices Act. Those with federal student loan balances may benefit from looking into income-driven repayment plans (IDRs) to help lower their monthly payment to a more manageable amount. Ameritech Financial is a private company that assists student loan borrowers with IDR applications and yearly recertifications.
About Ameritech Financial
Ameritech Financial is a private company located in Rohnert Park, California. Ameritech Financial has already helped thousands of consumers with financial analysis and student loan document preparation to apply for federal student loan repayment programs offered through the Department of Education.
Each Ameritech Financial telephone representative has received the Certified Student Loan Professional certification through the International Association of Professional Debt Arbitrators (IAPDA).
Ameritech Financial prides itself on its exceptional customer service.
Contact
To learn more about Ameritech Financial, please contact:
Ameritech Financial
5789 State Farm Drive #265
​Rohnert Park, CA 94928
1-800-792-8621
​media@ameritechfinancial.com
Source: Ameritech Financial
---
Categories: Financing and Student Loans, Financial News
Tags: federal student loans, imposter scam, income-driven repayment
---