Ameritech Financial Warns Student Loan Borrowers Hoping to Inherit: The Great Wealth Transfer May Fizzle Out
Press Release
-
updated: Jul 24, 2018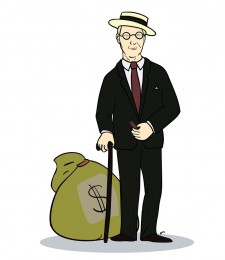 ROHNERT PARK, Calif., July 24, 2018 (Newswire.com) - Baby boomers were pretty successful. The richest generation in American history, boomers have accumulated an estimated 30 trillion dollars of wealth. As the generation begins to reach the twilight of life, economists are debating the extent to which all that wealth will find its way into the hands of some of the younger members of Generation X and the 83 million millennials poised to inherit the wealth boomers have stockpiled. Money managers agree to call the process, which will take decades, the "Great Wealth Transfer," but they disagree on the impact it will have. Ameritech Financial, a document preparation company that assists borrowers with federal repayment plan applications, encourages the younger generations to proceed with caution when expecting an inheritance in the future.
"It's always better to assume the worst and hope for the best," Ameritech Financial Executive Vice President Tom Knickerbocker began, "even with things like this. Don't make assumptions that will lead to bad decisions."
The main reason Knickerbocker is encouraging this tactic is that the wealth boomers have accumulated will partially dissipate before it is passed on to a small fraction of the generation's children. With the average lifespan nearly a decade longer than it was during World War II, boomers will have more time to spend the money they have saved. According to financial advising bigwig Gabriel Garcia of Pershing Advisor Solutions, boomers live with a "you only live once" mentality that will likely motivate them to try new experiences at higher-than-normal rates. These choices will drain the money they have to pass on. Expenditures like travel expenses and business investments will fuse with the normally expected costs of growing old and losing earning potential. One study even shows that 19 percent of boomers interviewed plan to spend all their money before they died.
It's always better to assume the worst and hope for the best, even with things like this. Don't make assumptions that will lead to bad decisions.
And if they don't, their wealth will be passed on to only a fraction of Americans. Not all baby boomers have been as successful as their counterparts, and any wealth they pass on will disproportionately go to people who are doing fine financially. The people who really need the money probably don't come from rich families with inherited wealth. With boomers in line to control 70 percent of the nation's disposable income, the consolidation of wealth into the hands of a few will play a major role in the redistribution of wealth. Some will see large inheritances while many more will see none. Many who inherit money may carry large amounts of student debt, compelling them to use that money to pay down a loan. The wealth will skip the inheritor and go straight to the bank. It is not a general redistribution of wealth — it is a passing of wealth from rich people to their children or from the middle class to the financial institutions.
"It's going to be great for some people, but the people who really need relief are not going to be the ones seeing a major benefit," Knickerbocker continued. "And the young people today are facing student debt like no generation before them. Those are the people that need help."
One option for the students who Knickerbocker speaks of is an income-driven repayment plan. An IDR for short, these plans are intended to allow a borrower more affordable monthly payments based on income and family size. If the Great Wealth Transfer is a dud in a student's life, an IDR may be the best option to create an affordable monthly loan payment that can allow borrowers some extra funds — funds that could even go to some travel of their own.
About Ameritech Financial
Ameritech Financial is a private company located in Rohnert Park, California. Ameritech Financial has already helped thousands of consumers with financial analysis and student loan document preparation to apply for federal student loan repayment programs offered through the Department of Education.
Each Ameritech Financial telephone representative has received the Certified Student Loan Professional certification through the International Association of Professional Debt Arbitrators (IAPDA).
Ameritech Financial prides itself on its exceptional Customer Service.
Contact
To learn more about Ameritech Financial, please contact:
Ameritech Financial
5789 State Farm Drive #265
​Rohnert Park, CA 94928
1-800-792-8621
​media@ameritechfinancial.com
Source: Ameritech Financial
---
Categories: Financial News, Financing and Student Loans
Tags: baby boomer, great wealth transfer, income-driven repayment, millenial, student debt, student loan repayment, student loans
---
Ameritech Financial
5789 State Farm Drive, 265 (265)
Rohnert Park, CA 94928
United States