Ameritech Financial: Surprising Ways Income and Wealth Affect Attending and Graduating From College
Press Release
-
updated: Oct 24, 2018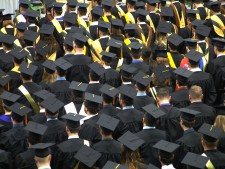 ROHNERT PARK, Calif., October 24, 2018 (Newswire.com) - Parents' income and wealth affect the probability of their children attending and graduating from college in surprising ways, according to a recent National Bureau of Economic Research report. The study is based on the idea that parents have long been a primary source of financial support for their children, historically about 30 percent of total cost. The study found that rises in income affect college attendance while wealth is more closely associated with college graduation. Due to dramatic rises in college costs, the ability of parents and children to finance college degrees has been impacted. The resulting student loan crisis, with Americans owing more than $1.5 trillion, has overwhelmed millions of borrowers. Ameritech Financial, a document preparation company, helps those weighed down by student loan debt apply for federal income-driven repayment plans (IDRs) that can possibly lower monthly payments.
"As tuition rises and a parent's contribution is put under pressure by stagnant income and high housing costs, student loan debt continues to explode," said Tom Knickerbocker, Executive Vice President of Ameritech Financial. "If you are struggling to make your student loan payments, we can help you apply for, and maintain enrollment in, IDRs that might lower your monthly payment based on income and family size and also end in forgiveness after 20 or 25 years."
Interestingly, the study found that parents' income and their wealth drive separate engines of going to college. Increases in income are more important than wealth when it comes to a child going to college. Higher education enrollment increases when a parent's income increases, as parents feel that they will be able to be more supportive of their child's education. But this same increase does not affect graduation rates.
Wealth, though, especially as it pertains to most families' major asset, a home, greatly affects college graduation rates. The study found evidence that parents are more likely to get their children through graduation when they had access to home equity loans. This is based on the facts that providing support for a child's higher education increases levels of mortgage debt and that the children of parents without access to home equity had lower graduation rates.
This has several consequences. First, it may mean we are severely underestimating U.S. student loan debt. Only traditional loans are counted as part of overall student loan debt, and this study confirms other reports that home equity loans are a significant, uncounted portion of that debt. In addition, it means that children with parents without wealth, especially those from families of color, may be limited in their ability to graduate. Each of these factors adds to the weight that the burden student loan debt places on students and their families, perhaps making student loan debt an even bigger crisis than previously thought.
"From a policy perspective, it's important to understand where we stand with student loan debt, but it's also important to look at it from the perspective of each individual borrower," states Knickerbocker. "For those overburdened by student loan debt, IDRs are great repayment options for federal student loan borrowers. We encourage our clients to use any advantage they might gain with payment reductions from an IDR to pursue their career and life goals."
About Ameritech Financial
Ameritech Financial is a private company located in Rohnert Park, California. Ameritech Financial has already helped thousands of consumers with financial analysis and student loan document preparation to apply for federal student loan repayment programs offered through the Department of Education.
Each Ameritech Financial telephone representative has received the Certified Student Loan Professional certification through the International Association of Professional Debt Arbitrators (IAPDA).
Ameritech Financial prides itself on its exceptional Customer Service.
Contact
To learn more about Ameritech Financial, please contact:
Ameritech Financial
5789 State Farm Drive #265
Rohnert Park, CA 94928
1-800-792-8621
media@ameritechfinancial.com
Source: Ameritech Financial
Share:
---
Categories: Financial News, Financing and Student Loans
Tags: affording college, home equity loan, income-driven repayment, student debt, student loan repayment, student loans
---