Ameritech Financial: Sport Fans Have Entertainment Options That Don't Have to Interfere With Student Loan Repayment
Press Release
-
updated: Jul 8, 2018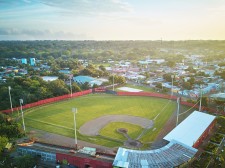 ROHNERT PARK, Calif., July 8, 2018 (Newswire.com) - With Major League Baseball and soccer's World Cup both in full swing, the summer of 2018 is a great time for sports fans. But trips to the ballpark can get expensive, especially for the whole family, and a trip to Russia to watch a match between two countries that aren't the U.S.A. is probably not the best investment for the fan of American sports. Student loans may leave a budget tight, as they represent the second highest level of debt in America behind only mortgages, but those struggling to pay off their debt from college have options when looking for live sports entertainment. Ameritech Financial, a document preparation company that helps federal student loan borrowers with repayment plan applications, believes student loans do not have to inhibit a person's love for live sports.
"People should allow themselves the opportunity to be entertained now and then, if they can afford it, of course," Ameritech Financial Executive Vice President Tom Knickerbocker said, "and we think we can help people afford it by helping them apply for IDRs."
An IDR, or income-driven repayment plan, allows a borrower a monthly payment in ratio to income and family size while working towards possible loan forgiveness in 20 to 25 years of enrollment in the program. "Payments" as low as zero dollars are sometimes possible while staying current on the loan. "These programs allow a borrower the financial freedom to spend a little income on entertainment once in a while," Knickerbocker commented.
People should allow themselves the opportunity to be entertained now and then, if they can afford it, of course, and we think we can help people afford it by helping them apply for IDRs.
Another good option when looking for sports entertainment is minor league teams. Across America, there are nearly 200 baseball teams affiliated with big league clubs. A Los Angeles area baseball fan could check out the Rancho Cucamonga Quakes or the Inland Empire 66ers of San Bernardino at a fraction of the cost it would take to see a Los Angeles Dodgers game. Minor league baseball games are famous for being cheap and fan friendly while providing great baseball at a fraction of the cost. They also have some great names — what fan wouldn't want to watch a team called the Lehigh Valley IronPigs, the El Paso Chihuahuas, the Akron RubberDucks, the Hartford Yard Goats, or the New Orleans Baby Cakes?
If soccer is the sport of choice, look up where the closest National Premier Soccer League team plays. The league has 98 teams, with seemingly every major city in America possessing an NPSL team nearby. With rosters mostly consisting of college players staying in shape during their university team's offseason, the league is a great place to catch up-and-coming footballers. Games are often fan friendly and extremely affordable.
Overall, a love for live sports can coexist with debt from student loans. A day at the ballpark or soccer pitch can be rewarding for a person, couple, or family in that it provides a trip outdoors to see athletes ply their trade while leaving money in the piggy bank that can go towards essentials or loan payments.
"If someone wants to catch a live sport, they have options," Knickerbocker continued, "and checking out the local minor league team is a great way to get out and do what you love while saving money and supporting the community. Couple this approach with an IDR, and a fan may have the potential to see live sports quite often."
 About Ameritech Financial
Ameritech Financial is a private company located in Rohnert Park, California. Ameritech Financial has already helped thousands of consumers with financial analysis and student loan document preparation to apply for federal student loan repayment programs offered through the Department of Education.
Each Ameritech Financial telephone representative has received the Certified Student Loan Professional certification through the International Association of Professional Debt Arbitrators (IAPDA).
Ameritech Financial prides itself on its exceptional Customer Service.
Contact
To learn more about Ameritech Financial, please contact:
Ameritech Financial
5789 State Farm Drive #265
Rohnert Park, CA 94928
1-800-792-8621
media@ameritechfinancial.com
Source: Ameritech Financial
---
Categories: Financing and Student Loans, Financial News
Tags: entertainment, federal student loans, income-driven repayment, live sports
---