Ameritech Financial Recommends Top Tips on Saving Money for Students and Graduates With Student Loan Debt
Press Release
-
updated: Jul 12, 2018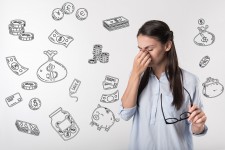 ROHNERT PARK, Calif., July 12, 2018 (Newswire.com) - Being a student is very expensive: books, parking fees, eating lunch at restaurants, endless lattes and all the school supplies. Don't forget the registration and course unit fees, plus the many other costs associated with attending college. However, there are several ways to save money and attend school at the same time. Students may also be worried about how their federal loans will affect them when their studies are done, or they may have graduated recently and need a better repayment plan. Ameritech Financial, a document preparation company that assists borrowers to apply for federal repayment plans, suggests that income-driven repayment plans (IDRs) may help borrowers focus on their financial goals.
"You don't have to let your student loan situation hold you back from where you want to be with your savings goals," said Tom Knickerbocker, executive vice president of Ameritech Financial. "If you're at the point where it's time for you to repay your federal student loans, consider alternatives that could empower you to save more and spend less on your monthly payments."
The number one tip for saving money for students is to watch their credit card spending. They should think twice before they go on spending sprees for a new wardrobe or the latest video games. For example, most Millennials were not taught any form of financial literacy when they were growing up, except for basic "put money in the piggy bank" strategies. Once they get their hands on plastic, they put everything on charge without thinking about the consequences. Making payments late or skipping them completely can have a detrimental effect on their credit score. Instead, students should research resources available that may have tips on getting out of credit card debt.
You don't have to let your student loan situation hold you back from where you want to be with your savings goals.
Students and graduates who are considering their career goals no longer have to worry about choosing the most lucrative path to pay back their loans. Instead, federal student loan repayment can be based partially on their income. Ameritech Financial helps borrowers apply for an income-driven repayment plan (IDR) intended to reduce payments to a lower monthly rate. The borrower's payments could be reduced relative to their income every month with a chance at loan forgiveness after 20 to 25 years.
Experts also advise students to learn to budget their expenses, which they can easily do with apps on their phone or a simple spreadsheet. How can they save money if they don't know where they spend it? Taking an honest look at one's finances can have a sobering effect, especially when they see they spent way too much on live music concerts or dining out. If students realize that every month they can save a portion of their funds, thanks to a part-time job or their monthly allowance, they could look into savings accounts that could further help them. For example, some savings accounts now offer competitive high interest rates, low or zero monthly fees, and may even give customers comprehensive support through a mobile app, live chat, phone, and more.
"Learning how to take care of your finances is a lifelong process," added Knickerbocker. "Don't feel discouraged if you feel like you're at a bad starting point. If you have student loans that need to be paid off, consider a new repayment plan to help lower your monthly payment. You may find yourself with extra cash, which you could save toward your bigger goals, or help pay off your debt from other sources."
About Ameritech Financial
Ameritech Financial is a private company located in Rohnert Park, California. Ameritech Financial has already helped thousands of consumers with financial analysis and student loan document preparation to apply for federal student loan repayment programs offered through the Department of Education.
Each Ameritech Financial telephone representative has received the Certified Student Loan Professional certification through the International Association of Professional Debt Arbitrators (IAPDA).
Ameritech Financial prides itself on its exceptional Customer Service.
Contact
To learn more about Ameritech Financial, please contact:
Ameritech Financial
5789 State Farm Drive #265
Rohnert Park, CA 94928
1-800-792-8621
media@ameritechfinancial.com
Source: Ameritech Financial
---
Categories: Financing and Student Loans, Financial News
Tags: federal student loans, financial goals, income-driven repayment, saving money
---